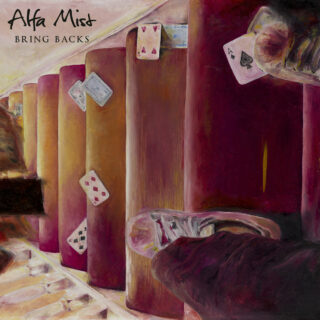 Alfa Mist
Bring Backs
(Anti)
7/10
Herbie Hancock once described the spirit of jazz as being inclusive as opposed to exclusive. To many, jazz can be an intimidating genre with its informal attitude to conventional song structures. Coming to the genre via hip hop, it has become a sort of second language for Alfa Mist to communicate, in more detail, his upbringing. In doing so, the London-based producer, pianist and MC creates the potential to connect people through shared experience. 
Bring Backs, Mist's fourth record – and first released through ANTI- – is a beautifully meditative and sumptuously produced body of work. Guided by twinkling celestial keys, mesmeric woozy guitar tones, and driving trumpet accompaniments provided by Johnny Woodham, these nine compositions are thematically unified by a poem written by Hilary Thomas. Weaving excerpts from the poem, which examines the process of establishing a sense of belonging in a new country (see 'Last Card'), effectively builds an enduring narrative arc within the lush meandering arrangements.
Often heralding the tonal sensibilities of his contemporaries across the water, namely Thundercat, Anderson .Paak, and BadBadNotGood, there are also subtle nods to Miles Davis's In A Silent Way, the record that preceded Bitches Brew by nine months, in the otherworldly melodies emanating from the keys. For the most part, Alfa Mist's compositions lean toward a far more tempered and tender expression. With tracks like 'Attune' and 'Teki', the listener is lulled by the calming atmosphere of the sensitively approached instrumentation. That's not to say that Bring Backs is without bursts of energy. Take 'Runs Out', an immediate standout on the LP. Its complementary textures strike a balance between serenity and frenzy, enhancing the pace at which the arrangement develops and subsequently envelops the audience. 
In all, Alfa Mist welcomes the listener into his world with an album that is warm, accessible and thought-provoking.
Pick up a copy of Loud And Quiet Issue 146 now to read Mike Vinti's interview with Alfa Mist.
New monthly memberships available
Here's a new thing: our membership scheme now has a pay-monthly option, plus a load of exciting new digital stuff for people who support what we do. It's actually excellent value, honest, and will help us continue to promote new independent artists and labels.
Sign up and you'll receive our physical magazines delivered to your door, our digital editions, exclusive podcasts and playlists and access to our EXTREMELY glamorous Members Lounge. You'll be the envy of all your friends.