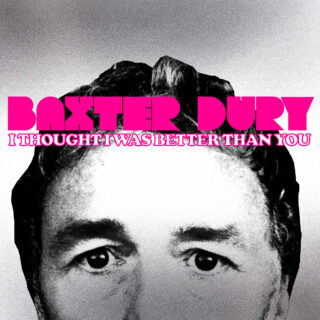 Baxter Dury
I Thought I Was Better Than You
(Heavenly)
8/10
Baxter Dury opens his seventh studio album with an existential crisis: "Hey Mummy / Hey Daddy / Who am I?" Immediately, he sets the tone for I Thought I Was Better Than You, a record that delves deep into Dury's life and, crucially, how he has dealt with the complexities of having a famous parent: "Why am I condemned because I'm the son of a musician?" he ponders on 'Leon'.
Dury isn't the first songwriter to dissect the influence their parents had on their life but it certainly a fascinating concept when the work presented is a confrontation of the impact of having Ian Dury as a father. Now in his 50s, and only a few years shy of the age his father was when he passed away, Dury candidly expresses how it feels to be a "prisoner of famous parents," and how it has affected his own lengthy career; he's a musician with a wealth of ambition and ideas when it comes to his work that is sometimes disregarded by people expecting him to merely recreate his father's material. "Even though you want to be like Frank Ocean / But you don't sound like him, you just sound like Ian," he intones on 'Shadow', one of the many highlights on the record. 
Musically, however, there are traces of Ocean's influence in the woozy production and pitched-up vocals on 'Celebrate Me'. Working with producer Paul White, together they've crafted a broad work that encapsulates the many moods of Dury's self-examination. It should be noted that I Thought… serves as a companion piece to his 2021 memoir, Chaise Longue; the two share characters, and musically it complements the text very well. In this regard, the ten songs are often minimal in their design – an infectious foundational beat here, a bright piano chord there and a healthy dose of captivating guitar licks throughout. Dury's languid delivery is often paired with (and sometimes takes a backseat to) a number of captivating female cadences, courtesy of Eska Mtungwazi, JGrrey and Madeline Hart which bring a great warmth to the rich textures swirling around 'Leon' and a gorgeous sentimentality to the emotive closer 'Glows'. A rewarding listen that gives the listener a greater understanding and appreciation of Baxter Dury's artistry.