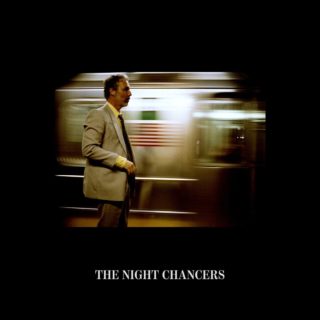 Baxter Dury
The Night Chancers
(Heavenly)
8/10
Stanley Kubrick once said that a film is – or should be – more like music than fiction. It should be a progression of moods and feelings. He also believed that observation is a dying art. The parallels between Baxter Dury – whose music is synonymous with self-disclosure and character scrutiny – and Kubrick are more visible than you'd think. 
The Night Chancers' conscious progression is a nod to Kubrick's psychological journey through the maze scene in The Shining. Atypically for Dury, not every song here is confessional. Instead, they're more of a feeling projected into a filmic narrative. On some of the tracks, different characters appear, and we know that because Dury adopts different voices and accents to fit the situation. The casual darkness of Dury's lyrics and the upbeat music is a contrast that becomes almost comical, echoing Kubrick's introduction of bleak irony to the sublime and absurd. 
On this record, Dury remains disarmingly, brazenly British. It's the insular safety of middle-class London that permeates The Night Chancers: from the title track's thrilling affairs that dissolve into sweaty desperation to the absurd bloggers of 'Sleep People'. There are stories about the futility of clinging to the fag ends of the fashion set via soiled real life ('Slum Lord'), social media-enabled stalkers ('I'm Not Your Dog'), and sleep-deprived optimism ('Daylight'). The record's finely-drawn vignettes are all informed by the corners of the world Dury has visited, but its overarching theme is that of being caught out in your attempt at being free.
There is a political undercurrent to Dury's music, but it's the intimate details of everyday domestic life that get him going. The title track is a case in point: an Anglo-aggro ode to the aspects of British life that no one talks about, recalling Mark E. Smith's ability to make the ordinary sound extraordinary. Indeed, Dury is a bit of a wordsmith, but in a way that doesn't alienate anyone. It's matter-of-fact, anti-intellectual even. Above anything else, Dury shows us that a little bit of melody and a lot of honesty can go a long way.
New monthly memberships available
Here's a new thing: our membership scheme now has a pay-monthly option, plus a load of exciting new digital stuff for people who support what we do. It's actually excellent value, honest, and will help us continue to promote new independent artists and labels.
Sign up and you'll receive our physical magazines delivered to your door, our digital editions, exclusive podcasts and playlists and access to our EXTREMELY glamorous Members Lounge. You'll be the envy of all your friends.