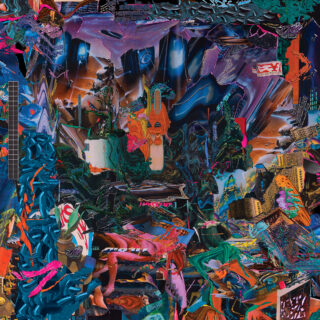 The second Black Midi album will no doubt come as a surprise to many. For starters, at the time of writing, it is yet to be publicly announced, despite its imminent release date. After a well-documented 'meteoric rise', which saw the young London-based band go from Brit School graduates to Brixton Windmill regulars to Mercury Prize nominees in just two years, and with guitarist Matt Kwasniewski-Kelvin announcing in January this year that he was taking some time away from music due to mental health issues, it would be fair to assume that the group had spent this past year of lockdown enjoying some well-earned time off. In fact, they seem to have done quite the opposite.
Elements of Cavalcade materialised pre-pandemic, as the band were extensively touring their debut record, Schlagenheim, but it was over lockdown, as they had to abandon their improvisational approach to songwriting for a more considered, deliberate process, sending tracks back and forth to one another, that the album began to take shape. A subsequent spell in rural County Dublin's Hellfire Studios last summer with Lankum sound engineer John 'Spud' Murphy, originally planned as a time to record demos, resulted in much of what is now the band's second album. 
In many ways, Cavalcade is a natural follow-up to Schlagenheim, and it announces itself as such with opener 'John L'; a frenzied math-rock offering plucked straight from the Black Midi playbook, with frontman Geordie Greep snarling something between a sermon and a spoken word poem while he and bassist Cameron Picton endeavour to keep up with Morgan Simpson, their indefatigable and unrelenting drummer. A shrieking violin courtesy of fellow Windmill regular (and L&Q Album of the Year winner) Jerskin Fendrix adds to the track's sense of pandemonium.
What comes next is altogether more interesting. As 'John L' comes crashing to an end and 'Marlene Dietrich' begins, the drums subside and a gentle, bossanova-esque guitar enters, as Greep begins to sing a sultry ode to the track's namesake. Despite, or perhaps because of, his vocal contortion, and ambiguous accent – he is from Walthamstow, and yet his pronunciation changes from Russian to midwestern and everything in between – Greep is a powerful storyteller, reminiscent of a musical theatre performer in his delivery. The track's lyrics are equally theatrical in nature: "Under soft lights / With her taped-back face / Our soft-spoken queen / Takes her place on the stage," Greep croons, like a cabaret compere, or a panto narrator, introducing the protagonist and ushering back in Simpson's drums, this time muted and rhythmic. This is unlike anything Black Midi have done before, and quite unlike anything expected of them – as far as one can have any expectations of a band who consistently defy them. It sets the tone for an album that is as incongruous as it is concise. Nothing feels superfluous here, and yet how they managed that is something of a miracle given how many styles and references they have crammed in – one YouTube commenter describes Black Midi as the musical equivalent of the "name one thing in this photo" meme. What's more miraculous is their ability to put their own spin on whatever genre they try on – regardless of whether it's slowcore americana ('Diamond Stuff') or full blown rock opera ('Dethroned'), it's undeniably Black Midi.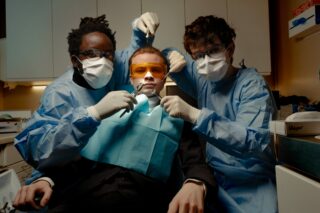 It would be easy to attribute this to Greep's singular vocals, but even on the two tracks on Cavalcade sung by Picton, their sound is instantly recognisable. If any one member could claim to carry the group, it would be Simpson. Anyone who has seen Black Midi live can attest that Simpson is one of the most hardworking, and highly skilled, rock drummers around. A Black Midi show usually involves a large amount of improvisation, a practice they honed during their time at the Brit School. Making improv enjoyable to watch is a fine art, and yet Black Midi achieve this, largely down to Simpson's ability to throw a complete curveball into the proceedings, which the band, to their credit, always seem to take in their stride. Although they claim that improvisation played less of a role in this album's writing process, it's clear that their sound is heavily informed by years of playing in that way, intuiting each other's next move and not being afraid to end a song in a completely different place to where it started. Ultimately, you get the sense that no one member of Black Midi is at the reins, that only the music matters. The band have been called pretentious and aloof, largely down to their minimal social media presence, non-existent stage patter and Greep's elusiveness in interviews, but when it comes to the music it's evident that any egos have been pushed to one side.
When Kwasniewski-Kelvin stepped back in early 2020, the now-trio recruited saxophonist and fellow Brit alumnus Kaidi Akinnibi, as well as keys player Seth Evans (a session musician who also plays with HMLTD), to join them in live shows. Both musicians have ended up playing on Cavalcade, and their contributions add an extra dimension to the band's already complex sound. On 'Chondromalacia Patela' in particular, a track named after the formal term for runner's knee and purportedly about convalescence, Evans' chaotic piano flourishes and Akinnibi's bursts of sax add to the overriding sense of restlessness. 
'Slow' – the first track sung by Picton – follows; a fervent, pulsating track that seems unremarkable at first and then unravels, becoming more and more theatrical as an organ enters the fold and Picton's soft voice builds to an almost operatic chant. What he's actually saying is vague, as is often the case with Black Midi, whether down to a stylistic choice or a dearth of lyrical skill. But if you're looking for wordsmanship then you have come to the wrong place. What Black Midi lack in lyricism they make up for in their emotive sonic storytelling, something that Cavalcade proves explicitly. Picton's second track, 'Diamond Stuff', named after a novel by Isabel Waidner, is particularly evocative. Supposedly set in a peat bog-turned-diamond mine, the song features a range of instruments including a cello, a grand piano, a bouzouki, a Marxophone, a flute, and a lap steel, and yet produces a feeling of immense darkness, with delicately plucked strings mimicking the glimmering of the diamonds before building into an ethereal climax. It's here that the influence of 'Spud' Murphy seems most obvious, the track's stark beauty reminiscent of Lankum's own sound.
Greep returns to the forefront on the whirring, hypnotic 'Dethroned', which although not an album standout will likely become a highlight when the band are able to play it live again. Unlike Schlagenheim, which was already somewhat familiar to their fans when it came out, made up of the tracks they'd been playing live for months, its successor offers an almost entirely new bunch of material. Where Cavalcade's theatricality and wistfulness makes for a more engaging listen on record, it remains to be seen whether any of its tracks will be as captivating live as 'bmbmbm' or 'ducter'. 'Dethroned' and the following track 'Hogwash and Balderdash' are strong contenders, with plenty of moshpit-ready breakdowns. Even the latter though, with its galloping bassline and incessant drums, isn't short on theatrics.
Album closer 'Ascending Forth', sees Greep in full Scott Walker mode, his melodramatic vocal following the folky guitar to an orchestral finish. The title and lyrics refer to an ascending fourth, a type of musical interval – a nod to the band's academic approach to composition. By changing 'fourth' to 'forth', they nod to another type of ascension too, and I am reminded of the fact that both Greep and Simpson grew up playing in church bands, an influence which seems even more prevalent on Cavalcade, with moments, on this final track and 'Diamond Stuff' especially, of pure, spiritual reverence, reminiscent of Alice Coltrane or traditional gospel. It's a brave and telling end to a masterful album – one which unsurprisingly surprises at every turn. Cavalcade proves Black Midi are incapable of resting on their laurels, and as 'Ascending Forth' draws to a triumphant close, we're left wondering what on Earth they will accomplish next.
Please support Loud And Quiet if you can
If you're a fan of what we do, please consider subscribing to L&Q to help fund our support of new musicians and independent labels
You can make a big difference for a few pounds per month, and in return we'll send you our magazines, exclusive flexi discs, and other subscriber bonus bits and pieces
Try for a month and cancel anytime