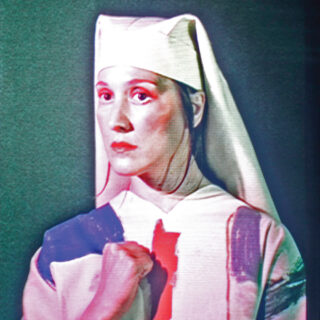 With every new Cate Le Bon proposition – whether she's operating a solo artist, collaborating with Tim Presley as DRINKS, or working as a producer for fellow revered alternative artists – the dawn breaks, illuminating an unexplored path of creativity cobbled with endless inspiration. In tandem with writing some of the most endearingly angular and abstract music of recent years, the Welsh-born songwriter and musician immerses herself in more immediately tangible art forms. When recording 2013's Mug Museum (a record which garnered wider mainstream acclaim and broadened her audience), she cracked the world of ceramics. Everyone who pre-ordered that LP also received a mug handmade by Le Bon. Similarly, 2019's Reward led Le Bon towards furniture design, and during that album cycle she designed and made custom chairs based on her interpretation of the songs. For her sixth offering, Pompeii, Le Bon drew inspiration from a painting by Presley which hung in the studio. Observing the artwork, Le Bon pondered how she could make an album that "sounds like a painting."
In this regard, to say that Le Bon is merely a multi-instrumentalist (whilst true) somewhat does a disservice to what she actually creates with her music. She is, instead, one of the few truly multi-disclipinary artists of her generation. Pompeii is another assured stride towards creative reinvention and obliterating boundaries with her singular sound. Written primarily on bass, these nine completely enthralling arrangements incorporate apocalyptically inclined 1980s synth-laden grooves ('French Boys' and 'Cry Me Old Trouble') whilst retaining a balance of buoyancy provided by jangly guitar pop, not unlike Prefab Sprout, on the irresistible 'Moderation'. The impact of the driving scuzzy bass riffs are perfectly offset by the feral interjections of saxophone, a marvellous counterpoint throughout. Those brass motifs, along with some melodic patterns in her vocal delivery (notably on 'Remembering Me'), are amongst the only motifs carried over from previous releases.  
There are several instances across Pompeii where the compositional structures and lyricism become suspended in time. This rings through most effectively on the title track. The wonderfully lethargic tones emanating from the synths coupled with Le Bon's weightless cadence conjure a stark terrain bathed in rustic tones similar to those in 'Persistence of Memory' by surrealist painter Salvador Dalí. "I've pushed love through the hourglass / Did you see me putting pain in a stone?" she intones. Similarly, 'Harbour' delivers more of Le Bon's beautifully abstract articulation of transient emotions: "What you said was nice, when you said my face turned a memory."
Pompeii is yet another outstanding turn from Cate Le Bon; sincere, timeless and endlessly rewarding
Loud And Quiet could do with your help
We love making Loud And Quiet – our magazines, this website, our podcasts and more – but it's become increasingly difficult for us to balance the books.
If you're a reader who'd like to help us keep the show on the road, please consider becoming a Loud And Quiet member. There are options to receive our physical magazines and lots of other extras that are exclusive to our supporters.