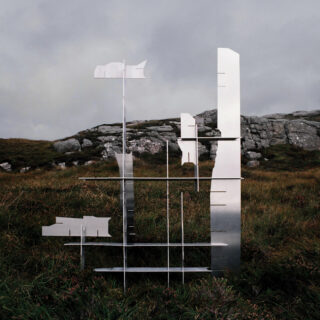 ALBUM OF THE WEEK
For Issue 157 of Loud And Quiet, Tristan Gatward spoke to Deathcrash about the making of Less in the Outer Hebrides. Read the interview here – and subscribe to the magazine for more totally independent writing on music and culture
If there's one thing that was certain after listening to Deathcrash's rapturous 2022 debut album Return, it's that the London slowcore quartet could never replicate it. A scattered and ruinous recording caught on tape, Return possessed the aura of an album found deep into the millennium – a record that could only be understood by working backwards. 
If Return burrowed a deep artistic hole, then Deathcrash had two options – dig further into the abyss or take rest, contemplate and gander up at the night sky. On their follow-up record Less, they've chosen the latter. 
The carousel of sounds and tempos that Return slalomed through with the verve and vehemence of a 12-course meal at a Ralph Fiennes-owned restaurant is, for all intents and purposes, parked. The group instead double down on the dusty dissonant lulls that roam the lo-fi twilight of Bonnie 'Prince' Billy, Duster and Smog. Gone is the boom and bust of post-rock theatrics, in its place the atavistic terror of light and dark. 
To facilitate the switch from rapture to rupture, Deathcrash have re-jigged their approach. Listening back, it's clear that much of the debut album's foreboding atmospherics were dictated by Noah Bennett's conductor-like drumming, with tempos shifted at the sudden drop of a hi-hat or blast of the toms. Here on Less, Bennett's presence is at times barely perceptible, like a butler dusting an antique. 
As a way to beef up the depth and rhythm of the songs, Patrick Fitzgerald's thick reverberating drone-like bass is now more in-sync with Bennett, as opposed to operating as a wildcard third stringed attack alongside the guitars as in Return. It all has the effect that the melody is more brittle, less prone to abrupt shifts and more to fading away. 
The dual guitars of Tiernan Banks and Matt Weinberger take on even greater importance, acting as the compass navigating most songs due north. Woozy riffs interact with delicate minor-chord plucks like a whisky priest attempting confession in opener 'Pirouette', before climbing through the sodden mud-field of Fitzgerald's wavy bass in 'Duffy's' like spring vines seeking the sun. In the rough-edged 'Turn', they even have the air of a psychopomp as they drift through the song's misty terrain to take sight of a damaged land. 
Tiernan Banks' vocals are notably sparse too. When they do emerge from the black ether like a message in a Magic 8 Ball, they feel weary or unhinged. Soaked in the gasoline romance of '90s and '00s US emo bands, Banks reserves his energy less for narration and more for implosion. 'Empty Heavy' and emphatic closer 'Dead, crashed' erupt like sun-spots, with full-blooded yells concealing unwelcome recognitions of the time wasted serving "a lifetime of blood, of toil".
If Return was waxwing ambition, then Less is Icarus's fall. Not the sound and spectacle of TNT exploding, but the loneliness of waking from a deep sleep screaming. In its attempts to contain, Less is less sprawling, less capacious, less soaring – but more tense, more caustic, and more close to the bone. What we have is a record that has come crashing down to earth, a record that has grown afraid of heights.