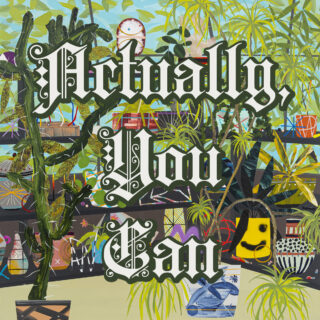 Deerhoof
Actually, You Can
7/10
Actually, You Can is Deerhoof's third record released in little more than a year. In the band's own words, it's their "Baroque-gone-DIY" album, and it takes Satomi Matsuzaki, Ed Rodriguez, John Dieterich, and Greg Saunier's ability to create over-the-top pastiches, mixing different and colliding bits of popular and high culture, to the highest point. They try interpolating "a Handel aria, a Maya Angelou essay, and a Catholic homily in which Christ descends into inferno to release its captive souls", as in the opening 'Be Unbarred, O Ye Gates of Hell'; on 'Scarcity is Manufactured', they pay homage to the late Ritchie Valens with a rendition of 'La Bamba' that's turned into a Mexican pride anthem by guitarist Ed Rodriguez.
Throughout the nine tracks of the LP, heavy drumming and distorted guitars play incessantly, creating a cloud of sound over Matsuzaki's ethereal voice in what they call, again in their inimitable style, "rococo garage", which must be the best definition of their sound so far. With Actually, You Can, Deerhoof confirm their masterful ability to create new worlds, both sonic and verbal.
Subscribe now. Cancel anytime
Go on, give us a go
We love making Loud And Quiet – our magazines, this website, our podcasts and more – but it's become increasingly difficult for us to balance the books.
If you're a reader who'd like to help us keep the show on the road, please consider becoming a Loud And Quiet subscriber. There are options to receive our physical magazines and lots of other extras that are exclusive to our supporters.