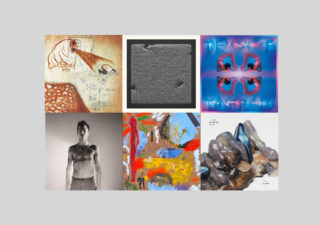 Our favourite 10 albums from the month of May
We've judged the public mood on this one
From infuriating levels of isolation productivity – albums written and recorded during six weeks of lockdown – to field recordings of endangered bats, these are our favourite 10 albums from the month of May. We think we've judged the public mood on this one perfectly; on the off-chance that you're planning a 520-mile-round road trip this weekend, we've got your playlist sorted. (We didn't include Sleaford Mods in here, as that's a compilation and ten's a nice number, but listen to All That Glue too).
Artist: Field Works
Title: Ultrasonic
Label: Temporary Residence
What is it? The eighth instalment in musician and National Geographic Explorer Stuart Hyatt's Field Works series, with an all-star cast of ambient/ experimental producers and source material comprised primarily from the endangered Indiana bat.
L&Q says: "What's most striking about this compilation are the gulfs of difference between each composition. At its most engaging, artists find a playful synchronicity between the natural and the considered".
Read Dafydd Jenkins's full review here.
Artist: Perfume Genius
Title: Set My Heart On Fire Immediately
Label: Matador
What is it? The fifth studio album from Mike Hadreas, exploring love, sex, memory and the human body with fuzz and distortion rather than the glossy sheen of his previous efforts.
L&Q says: "Set My Heart On Fire Immediately burns with passion – desirous of musical exploration at every turn, but more crucially, driven by a craving to wrestle with issues bigger than himself."
Read Joe Goggins's full review here.
Artist: The Cool Greenhouse
Title: The Cool Greenhouse
Label: Melodic
What is it? Deadpan spoken word from post-punk outlier Tom Greenhouse and his Cool Greenhouse moniker, that's now a full band and more than the sum of its influences.
L&Q says: "His songs are candid and sharp parodies of the middle classes, and whilst the elephant in the room is the inevitable "sounds like The Fall" detractors, Tom Greenhouse's lyrical stylings are entirely his own."
Read Cal Cashin's full review here.
Artist: Kaitlyn Aurelia Smith
Title: The Mosaic of Transformation
Label: Ghostly International
What is it? The West Coast producer's electronic ode to electricity as a physical feeling.
L&Q says: "All the best ambient albums are based around mostly incomprehensible concepts, and Kaitlyn Aurelia Smith's The Mosaic of Transformation is no different."
Read Alex Francis's full review here.
Artist: Deerhoof
Title: Future Teenage Cave Artists
Label: Joyful Noise
What is it? A fresh and revolutionary-sounding get-together of DIY realism from a band whose formula hasn't gone stale after 25 years.
L&Q says: "Some things don't change, and true to Deerhoof's improvisational nature, the band romp through fractured R'n'B, pop, noise rock and classical influences like someone searching for a station on a car stereo."
Read Dominic Haley's full review here.
Artist: Charli XCX
Title: how i'm feeling now
Label: Atlantic
What is it? An album written and recorded during the last six weeks of lockdown, that's almost frustratingly good.
L&Q says: "Don't be misled, this is not a diaristic curiosity or a superficial self-isolation soundtrack: how i'm feeling now is a miraculously accomplished and mature album which slots seamlessly into Charli's flawless flow of weird pop releases since 2016's Vroom Vroom EP."
Read Robert Davidson's full review here.
Artist: Car Seat Headrest
Title: Making A Door Less Open
Label: Matador
What is it? A bold move away from Car Seat Headrest's sad-kid-on-Bandcamp styling, with a record that's a little bit of every genre, with love from the internet age.
L&Q says: "This album is a welcome flush of human warmth in a world that feels increasingly cold, optimised, and lonely."
Read Isabel Crabtree's full review here.
Artist: Ital Tek
Title: Outland
Label: Planet Mu
What is it? A sleep-deprived, richly atmospheric electronic album about new beginnings, being Alan Myson's first music since becoming a father.
L&Q says: "Written and recorded during long nights watching over his newborn, Outland's nocturnal tone is unsurprising, and feels as though it was designed to be heard only when sunlight is absent from the world."
Read Woody Delaney's full review here.
Artist: Erland Cooper
Title: Hether Blether
Label: Phases
What is it? The final and most vocal-centric third of contemporary classical composer Erland Cooper's Orkney trilogy, which sees him return to the sounds and comforts of his childhood off the Northern coast of Scotland.
L&Q says: "Think of electronic music inspired by rural landscapes in the UK and the obvious reference point is Aphex Twin, but Cooper refuses to muck about with similarly irony-poisoned humour."
Read Alex Francis's full review here.
Artist: Sex Swing
Title: Type II
Label: Rocket Recordings
What is it? A supergroup comprising luminaries of the UK underground – Mugstar, Bonnacons of Doom, Dethscalator, Earth, and countless more – with their sophomore of amplified industrial catharsis.
L&Q says: "Order and chaos rule Type II, and Sex Swing would've made a far less engaging LP had they allowed one to supersede the other."
Read Dafydd Jenkins's full review here.
Please support Loud And Quiet if you can
If you're a fan of what we do, please consider subscribing to L&Q to help fund our support of new musicians and independent labels
You can make a big difference for a few pounds per month, and in return we'll send you our magazines, exclusive flexi discs, and other subscriber bonus bits and pieces
Try for a month and cancel anytime