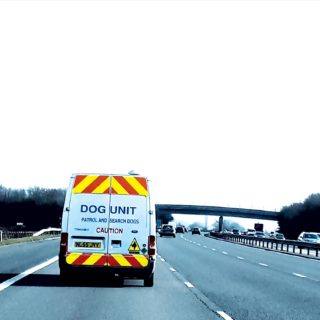 Dog Unit
Barking To Gospel EP
8/10
Search 'Dog Unit', and the first thing you'll find is a subreddit about the outcasts of the London police force, its stories circling Islington boroughs and solving crimes, making bemused civilians pick up litter dropped a century ago, all overseen by herds of blank-faced men using the faux-intimidation tactics of a playground pariah with a newfound, albeit watered-down, authority. They do have dogs, though. Search through the images and there's their Ford Transit, strikingly adorned with warning lines – "DOG UNIT" – trundling its way up the M25, advertising the least welcoming puppy room on the commuter belt.
Should curiosity take you further, you'll also stumble across a picture of Lucy Jamieson, Henry Scowcroft, Sam Walton and James Weaver, dressed head-to-toe in navy "Dog Unit" embroidered boiler suits, looking – if anything – a little more intimidating than the real thing. The Hackney-based instrumental rock four-piece's debut EP is a particularly enticing introduction. Splayed across 25-minutes of meanderingly melodic, foot-tapping but reverb-drenched kosmische, Barking To Gospel is the Polyfilla in the cheap walls between the rooms of rising UK post-rock and electronica.
Lead single 'Lab Coats' is a propulsive drive-time Tangerine Dream, where synths and sequencers are traded for the four-four-two of band line-ups (and an omnichord). Mixed by Kieran Hebden (Four Tet) during his isolation in upstate New York and mastered at Geoff Barrow's Invada Studios (Portishead, Beak>) in Bristol, the band's transatlanticism goes beyond an impressive end credits. Tonally, the title track takes a Paul Banks guitar line and morphs it over Duophonic ambience; 'An Argument' is the blissful C86-defibrillator we wanted Film School to end their self-titled sophomore with; the EP's closing track is a mash-up we'll call bluesgaze, where a catchy and repetitive hook gets teasingly washed-out and in with all the structure of the tidal amplitudes. There's much more to this Dog Unit than intimidation.
Free Protomartyr flexi disc with this month's magazine
Subscribers to Loud And Quiet now receive a limited edition flexi disc of a rare track with their copy of the magazine
This month's disc is from Detroit punk band Protomartyr