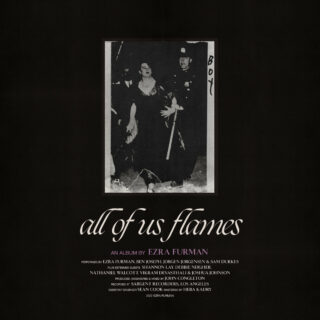 Ezra Furman
All Of Us Flames
8/10
You may remember Ezra Furman from such extolled television dramedies as Sex Education, for which she composed a soundtrack as coltish as it was transcendent – perfectly encapsulating the potency of adolescent love, libido, and loss. But Furman's raucous, uplifting pop has a rich existence outside the four walls of Moordale. In fact, All Of Us Flames is album number nine(!), if you include three she made with backing band the Harpoons. Where its predecessor Twelve Nudes spat on oppressors with spiky punk, All Of Us Flames utilises a palette more akin to The Replacements taking on Freddie Mercury, interrogating identity, modernity, unity, and the never-ending end of the world.

Between the quiet nights on Main Street, character vignettes ("Stephen who stands out on Belmont most days with a trench coat and a bottle of booze"), and plans to "run away into the sun", Furman is like the Springsteen of the LGBTQIA+ community – the authority on demented optimism from the gutter of adversity. But reducing All Of Us Flames to train tracks, sunsets and Beat Generation hedonism misses the point. This isn't a Craig Finn record; it's a "first-person plural one", as explained in the press release. Incisive think points are posed throughout. "What do your rainbows do?" she asks fairweather allies on the understated denouement 'Come Close'. The most affecting moment is when she yearns for "the teenage girl I never got to be". 
Ezra Furman channels just about everything into her most ambitious collection of dirt-pop brilliance. It sounds ready to change the world, but all it needs is to reach one teenage flame with the will to undress their future.
Free Protomartyr flexi disc with this month's magazine
Subscribers to Loud And Quiet now receive a limited edition flexi disc of a rare track with their copy of the magazine
This month's disc is from Detroit punk band Protomartyr