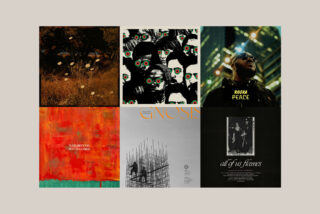 Distract yourself from everything with August's best albums
From widescreen jazz to an underrated UK dance genius
As End of the Road festival closes a disorientating summer of music, the last of the conventionally quiet months of 2022's release schedule has still foraged enough sonic vegetation to keep us well-fed this August. Go forward and rake through the surprisingly fertile grounds, from soundtrack-ready free jazz supergroups to one of the most thrilling UK dance records of the year. Here are the seven albums from the last month we've been listening to most.
Artist: Szun Waves
Title: Earth Patterns
Label: Leaf
What is it? The cinematic and addictingly claustrophobic coming together of analogue synth wizard Luke Abbott, Portico Quartet saxophonist Jack Wyllie and Triosk/ PVT/ Liars drummer Laurence Pike.
L&Q says: "[The] music feels rattled and shaken out of its instruments rather than just played, and a murky, exterior quality accordingly endures: this is music for the outdoors and dusk, with all the associated perceptual strangeness that goes with it."
Read Sam Walton's full review here.
Artist: Why Bonnie
Title: 90 In November
Label: Keeled Scales
What is it? The debut bedroom-indebted full-length album from New York via Texas couch pop quintet, confidently poetic and inimitable despite its proudly fuzzed-up influence.  
L&Q says: "While there's clearly no avoiding their heavy '90s lean, there's enough on show here to suggest that the group are in it for the long run."
Read Jack Doherty's full review here.
Artist: Danger Mouse & Black Thought
Title: Cheat Codes
Label: BMG
What is it? A new force in contemporary hip hop between producer extraordinaire Danger Mouse and co-founder of The Roots, Black Thought, featuring one of the best posthumous collaborations in recent memory.
L&Q says: "Cheat Codes is a timely reminder of what two great hip hop minds can achieve when they put their heads together. Don't call it a comeback. This is the start of something new."
Read Jack Doherty's full review here.
Artist: Roska
Title: Peace
Label: RKS
What is it? The fourth full-length album from South London-based DJ, producer and UK funky pioneer Roska, embracing into his own style across the numerous intricacies of the British dance scene.
L&Q says: "In lesser hands, this could end up being a bit confusing, but Roska's genius has always been his ability to identify new flavours and add them to his sound. Each track is like its own mini-masterpiece, so much so that it's hard to pick a highlight."
Read Dominic Haley's full review here.
Artist: Ezra Furman
Title: All Of Us Flames
Label: Bella Union
What is it? A vivid new road trip-ready rock record on the ninth full length run-out from "the Springsteen of the LGBTQIA+" world, writing music primarily for the marginalised Jewish and trans communities she belongs to.
L&Q says: "Ezra Furman channels just about everything into her most ambitious collection of dirt-pop brilliance. It sounds ready to change the world, but all it needs is to reach one teenage flame with the will to undress their future."
Read Hayden Merrick's full review here.
 Artist: Russian Circles
Title: Gnosis
Label: Sargent House
What is it? The most stark, doom-laden and heavy music that the well-journeyed Chicago instrumental trio has penned since 2006's debut Enter.
L&Q says: "This top-drawer ensemble have constructed a sonic palette that adroitly shifts from blunt and to-the-point to subtle and meticulously-arranged."
Read Tom Morgan's full review here.
Artist: Li Yilei
Title: Secondary Self
Label: LTR
What is it? Scattered meditations through bird song to abstract guitar from the Chinese-born and London-based multi-disciplinary artist, originating from sketches at Café OTO.
L&Q says: "Striking – if not more than a little anxious in its essence – Secondary Self exists more so as an immersive work of sound design than a commercial release for passive consumption."
Read Zara Hedderman's full review here.
Free Protomartyr flexi disc with this month's magazine
Subscribers to Loud And Quiet now receive a limited edition flexi disc of a rare track with their copy of the magazine
This month's disc is from Detroit punk band Protomartyr