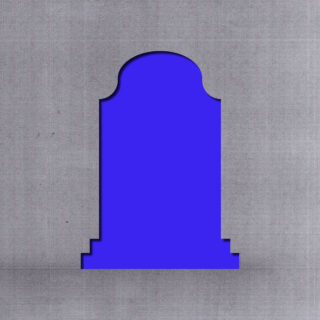 GNOD
La Mort Du Sens
(Rocket)
6/10
It's been a while since we've heard some new stuff from GNOD. It's not that the Salford noiseniks have been slacking off, just this year they released Easy to Build, Hard to Destroy, an excellently-titled collection of rarities and B-sides, but you'd have to go back to the heady days of 2018 if you wanted to find the band's freshest cuts.
After such an extended break, the big question is, "How does the GNOD of today compare to the GNOD of three years ago?" Well, the short answer is, "quite well, actually". La Mort Du Sens, which roughly translates as 'The Death of Meaning', is a typically cerebral slab of noise rock that pretty much picks up where the band left off with Chapel Perilous. In the press leading up to the release, the band have touted this record as a musical response to a world that seems to make less and less sense the more that you look at it. And, to be fair, they've pretty much nailed it, packing in acres of intellectual-sounding nihilism into a tight, six-song package.
Themes aside, musically, La Mort Du Sens is the most stripped-back GNOD has sounded in years. Recorded with long-time collaborator Raikes Parade at "some old mill in Manchester", a combination of the pandemic and the subject matter has led the band to fall back on the more DIY sound of their '00s heyday. As a result, this record definitely has more fidgety energy than the crushing brutality the band usually gravitates toward, but enough of the original blueprint continues to shine through. The guitars still slash like knives, and the drums still batter on remorselessly, and everything sounds as intense as it ever was. Get to the end of closer 'Giro Day', and I guarantee you'll be feeling the need for a cold shower.
New monthly memberships available
Here's a new thing: our membership scheme now has a pay-monthly option, plus a load of exciting new digital stuff for people who support what we do. It's actually excellent value, honest, and will help us continue to promote new independent artists and labels.
Sign up and you'll receive our physical magazines delivered to your door, our digital editions, exclusive podcasts and playlists and access to our EXTREMELY glamorous Members Lounge. You'll be the envy of all your friends.