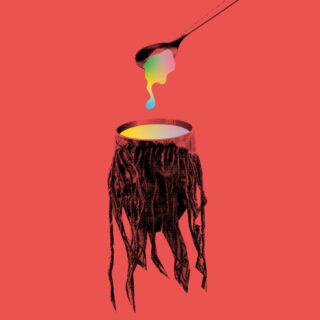 Five years after their explorative and occasionally folky double album, Requiem, GOAT fans await a chance to embark on another psych-rock ritual with the anonymous Swedish troupe. They'll have to wait longer for a full-length album, it seems. Headsoup is a collection of B-sides with just a couple of new tracks. Though it lacks the ceremonious presentation of past releases, this mixed collection does offer an interesting chance to reassess the band's work, free of gimmicks or dodgy headgear. 
For the uninitiated, GOAT claim to be a voodoo-practicing sect from an isolated locality in Sweden. Their undoubtedly ballsy live shows feature pagan-style costumes and literal bells and whistles. They also claim to consume the souls of the audience during sets. A decade into their career and this secretive band have managed to remain masked, which is an impressive dedication to kayfabe. 
GOAT are undoubtedly a talented jam band, combining their varied influences with extravagance and focusing on noodling instrumentation and scrappy song structures. When it works, like on the thrilling fuzzed-out guitar soloing of 'Dreambuilding' or the krautrock-leaning hypnotism of 'Goatfizz', it's easy to sink into the premise. 
Mostly, though, Headsoup is a lethargic and unfocused offering. Taken from various sessions across their career, it's worrying how frequently songs bleed together. There's a lack of distinct melodies or performances to make individual moments land. The messy organ soloing on 'Relax' and the grating recorder tooting on 'Union of Mind and Soul' don't sell them as masters of their instruments either. 
GOAT knowingly work with an amateurish delivery, emphasising feeling and some vague mysticism – as is made obnoxiously clear on the chorus on 'It's Time for Fun', delivered in typically flat and shouty fashion ("Take off your clothes / Put down your guns / No time for problems / It's time for fun").
The two new tracks that finish the collection have more polish and momentum behind them, but they hardly signal a change of pace for the group. Still, when the freaky guitar melting of 'Queen of the Underground' takes its hold, you can see why this band remain so captivating for their die-hards.
New monthly memberships available
Here's a new thing: our membership scheme now has a pay-monthly option, plus a load of exciting new digital stuff for people who support what we do. It's actually excellent value, honest, and will help us continue to promote new independent artists and labels.
Sign up and you'll receive our physical magazines delivered to your door, our digital editions, exclusive podcasts and playlists and access to our EXTREMELY glamorous Members Lounge. You'll be the envy of all your friends.