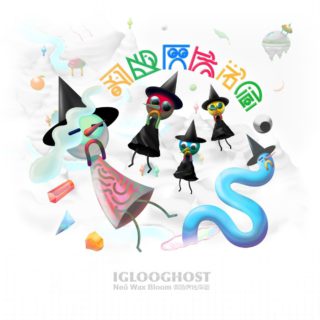 IGLOOGHOST
Neo Wax Bloom
9/10
IGLOOGHOST often lives above 200 BPM. It's taken us a while to catch up to him. The tracks from his Brainfeeder debut EP, 'Chinese Nü Yr', were dense and hyperactive, swallowing up grime, Japanese culture, video game compositions, and other beasts that live largely on the internet. The overwhelming detail and drive worked into these pieces made them hard to quantify, so those few reference points popped out. Some of us trawled through his Soundcloud likes for clues on where to box the producer; Steve Reich, AJ Tracey and meme-y shitposts were all celebrated. Vaguely it's electronic with synthetic polish, jarring cuts and euphoric drops all shining through, but really, it was impossible to know where IGLOOGHOST was going.
Two years later, and the sonic world IGLOOGHOST inhabits is beginning to take shape. With his first full-length, 'Neō Wax Bloom', he wants to actualise it for the listener. It flows as a single stunning piece, soundtracking the absurd story of a gelatinous worm named Xiangjiao (continued from the EP), and the challenges he faces during time-travelling escapades. Its packaging contains character bios and a twelve-page comic to better flesh out the story; the cartoony universe is expanded with recurring motifs, like a gorgeous vocal cut from Charlotte Day Wilson, that's twisted into alien shapes throughout the album.
The otherworldly quality is brilliant, but it's the human element creates the tingles. Not a single bar is copy-pasted. For all its busyness, there's a stunning clarity and care given to individual sounds. The swirling free-jazz saxophone on 'Super Ink Burst' steals the show, but focus on just the kicks, or the twinkling countermelody, and you'll be in for a treat. On 'White Gum', an AJ Tracey sample is chopped so elegantly that it melts right into the beat.
Not since Shlohmo's 'Bad Vibes' has there been a producer with such rich and fluid programmed beats. 'Neō Wax Bloom' is an epic ode to short-attention spans that will make you glad it fried your brain with information and desensitised you to bright lights.