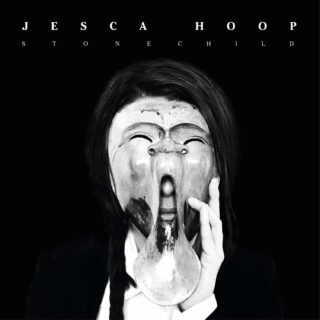 "We go look for dark" goes the mantra on 'Free of the Falling', the desert-folk fingerpicking opening track of Jesca Hoop's fifth album proper, and the statement of intent could not be clearer: while previous Hoop outings haven't exactly been cartwheeling exercises in frothy pop, 'Stonechild' is the California-born Mancunian's most brooding yet – the title is inspired by a museum exhibit of a woman who carried around her unborn foetus for 30 years – and all the more striking for it, conjuring images of environmental decay, doomed romanticism and psychological disaster all set to slithering and insidious musical backdrops.
Broadly, the songs fall into two categories. One finds Hoop purr, drowsy and laconic, over atmospheric, meditative, almost pagan-sounding processionals, in which muffled drums and backing vocals rise through the track as if emerging from some dusty basement: lead single 'Shoulder Charge' offers a cathartic sense of togetherness, as Hoop insists "empathy's contagious" with a hymnal serenity, and 'Passages End' is a slinking and deceptively heavy piece whose superficially simple melody is cast in pleasingly disarming timbral and harmonic surroundings.
LISTEN: Jesca Hoop on Midnight Chats episode 20
The other adopts a more bucolic tone, full of sinister fairytale storytelling, proverbs and prophecies, Hoop's singing becoming more songbird than forest creature, and her playing more serene: the disconcertingly pretty interweaving voices and production simplicity of 'Outside of Eden' evoke the purity of some bygone-era travelling family folk troupe, and stand-out 'All Time Low', with its elliptical construction, seesawing chords, and the sort of ardent, spirited singing reminiscent of Joanna Newsom, takes an instantly familiar form and renders it satisfyingly skewed.
Both song types suffer missteps – the former occasionally over-reliant on chug in the absence of anything more substantial ('Red White and Black'); the latter at times too diaphanous and billowy to truly engage ('Old Fear of Father') – but none are fatal to 'Stonechild''s wonderfully engrossing overall fug. Indeed, when the two forms combine on closing track 'Time Capsule', with Hoop's hush propelled by the simplest of basslines, the effect is quietly electrifying; an expert summation of this richly drawn, strong-willed record full of light and dark, sweetness and dryness, and gracefully broad multisensory intrigue.
Free Protomartyr flexi disc with this month's magazine
Subscribers to Loud And Quiet now receive a limited edition flexi disc of a rare track with their copy of the magazine
This month's disc is from Detroit punk band Protomartyr