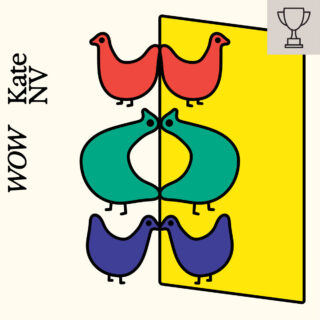 ALBUM OF THE WEEK
Recently, whilst listening to Kate NV's excellent WOW, I passed the Will Alsop-designed Peckham Library. The library – a blue box, topped by an orange beret, floating atop wonky legs – is, much like Kate NV's latest record, an expression of gleeful fun. Both eccentric pieces squeeze colourful joy out of awkward shapes. 
That NV studied architecture is fitting; her songs sound like they're built from bright blocks of Meccano. 'oni (they)' begins proceedings with a cascade of bleeping electronics that fizz like a melting hard-drive. It gains its footing before warping into another direction. No wonder its video refers to primitive computer game visuals; the tune skips and glitches like a scratched disc. 'early bird' shares a similar sense of wide-eyed wonder; it's a frantic symphony played on a keyboard that seemingly stimulates farmyard sounds. Here, and elsewhere, WOW's playfulness tussles with the intricacy of its arrangements. The results are beguiling. 
2020's Room For The Moon, was said to be made during the "loneliest period of [her] life", and on the withdrawn 'sion (elephant)' this period is hinted at as the maximalist urges are left in a drawer. Here the electronic gurgles read more like sighs, but all the same NV's melancholy is a technicoloured affair. The surface to these songs sparkles and beneath there's a great depth. 

Although forming a cohesive set, nods to the polymath's extracurricular activities abound. 'meow chat' plays the record out with a brief and spidery guitar line, this a timely reminder of NV's fabulous – and seemingly dormant – post-punk outfit Glintshake. Elsewhere her time in the Moscow Scratch Orchestra is honoured with 'flu'. Flutes circle themselves before being lost in a spaghettied tangle of synths and percussion.   
Wasn't it said that writing about music is like dancing to architecture? While listening to 'confessions at the dinner table' – the funnest track on 2023's funnest record – the second part of that adage seems like a brilliant idea.