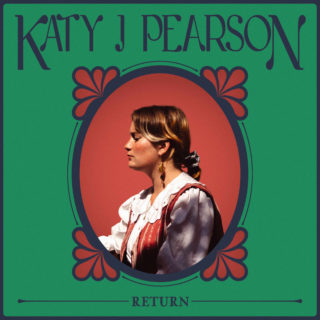 A double denim-wearing West Country outlaw, Katy J Pearson is a fearless music industry gunslinger. 
She first scraped success almost four years ago as one half of her previous band alongside her brother, but corporate contracts and mounting commercial pressure forced her to part ways with a major label deal and altogether forfeit the prospect of a 'dream come true' debut album. Credit where credit's due: her refusal to sacrifice integrity at the expense of another's profit takes serious guts. Unwilling to compromise at the beck-and-call of others, she's a true indie hero unafraid to stick it to the suits. Now back and with a point to prove, her success restores faith in the idea of an artist free to pursue their own vision.
Having been picked up by London indie powerhouse Heavenly Recordings, years of navigating Bristol's bustling arts and music scene have landed her a second chance at a debut album. An intimate reflection of her past and present, the aptly named Return is a body of work defined by its own stubborn determination to one day exist.
Like a scene from a traditional swing-doored, spit-and-sawdust saloon bar, talk of lovelorn hearts and finding needles in haystacks make up the backdrop for Return's quaint interior. Sliding seamlessly between old fashioned country heartbreak and life-affirming indie pop, sweet-talking tales of girl-meets-boy ring out over rhythmic, upbeat arrangements on 'Tonight'. Paying homage to just how far she's come, the title track's gently plucked strings bleed into rousing calls for substance on 'Something Real'. Each track feels defining for Pearson and hammers home her resilience as an artist.
Dug up from her days contending with major label demands, rockier hooks light up lead single 'Fix Me Up'. Searching for salvation, it's a stark contrast against the triumphant 'Take Back the Radio', where Pearson celebrates being back and blaring across the airwaves. It all comes to an emotional head on the stripped back, 'Waiting For The Day'. Conjured by the quiet tenderness of her naked vocal, it's a beautiful testament to previous yearnings for the achievements of today.
Free Protomartyr flexi disc with this month's magazine
Subscribers to Loud And Quiet now receive a limited edition flexi disc of a rare track with their copy of the magazine
This month's disc is from Detroit punk band Protomartyr