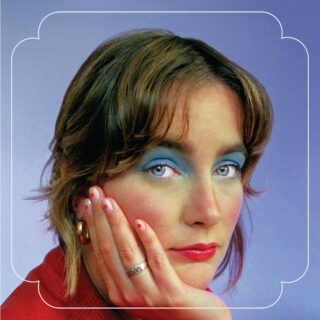 Katy J Pearson
Sound of the Morning
(Heavenly)
7/10
One moment can come to define a career. For Katy J Pearson it was donning a rhinestone cowboy suit and line dancing very badly in the video for 2019's 'Tonight'. From that point on she was pigeonholed as a country or Americana artist, despite debut album Return having more in common with the classic rock of Fleetwood Mac. 
Praised for "finding humanity in every moment" (DIY) and being "an endearing, life-affirming ode to self-improvement and resilience" (The Line of Best Fit), the 2020 release was written in response to both the pandemic and to breaking free from the major-label pressures of her early career with former band Ardyn.
Its follow up, Sound of the Morning, shares its relatability and quality of aural balm. Yet while it's likely to challenge the country label, her claim that "it's not what people will expect from me," isn't quite true. In turning her attention to the world as it reopens and people once again expand their horizons, its eleven songs nonetheless show a marked development in their willingness to experiment with genre. 
That's partly because the Bristol-based artist has opened herself up to new creative experiences. In the 18 months since her last album she's guested on Orlando Weeks' recent album Hop Up (he returns the favour on 'Howl'), played live with Yard Act, and sung on trad-folk collective Broadside Hacks' Songs Without Authors.
She's also reconsidered her ways of working, having been burned by her experiences with Ardyn. The indie band she formed with her brother were made to workshop songs with hitmakers. This meant that, "on my first record I was so against collaborating because I've been undermined so much as a female artist in the past, writing-wise." 
Here she puts the past to bed and is assertive enough to choose who can bring out the best in her writing. Alongside Ali Chant, who produced her debut, she's brought in Dan Carey, who she credits with introducing a grittier songwriting style that's, "a bit more confident and in your face." She also shares credits with the likes of long-time friend Oliver Wilde of indie collective Pet Shimmers ('Float') and former band mate Ben Hambro ('Game of Cards'). 
The change in tone isn't immediately obvious. The title track is all folk guitar and flute, coming across like a more contented Nick Drake, while 'Talk Over Town' is the breezy indie-pop with which she made her name. It may address the bewildering experience of, "being Katy from Gloucester, but then being Katy J Pearson who's this buzzy new artist" but musically it's as comfortable as an old sweater.
It's not until four tracks in that her desire to push herself creatively is evident. 'Howl', which starts out with the brooding electronics of Depeche Mode, sweeps along with buoyant brass. The instrument returns, less experimentally, on the unexpected instrumental outro of 'Game of Cards'. An otherwise sun-kissed track, the reflective ending captures its lyrical theme about "the vulnerability of a blossoming relationship and not knowing where it's headed."

The outro moves neatly into the uncharacteristically downtempo 'Storm to Pass', on which the warm brass at the end signals a note of hope. Its mood is also captured on the folk lilt of 'The Hour'. She claims it was written in stripped back form because her acrylic nails didn't allow for anything more complex, but it's the perfect backing for her vulnerable delivery and seemingly heartfelt lyrics ("Tell me something / I don't understand"). 
The bittersweet note of those tracks is contrasted by 'Confession', which creates a sense of anxiety with its nagging bassline and slight post-punk influence. Inspired by the #MeToo movement, its lyrics reveal little concrete detail but build tension through repetition. "It was a very long time ago / When it happened / And not a lot of people know," she confides. 
There's also a post-punk edge to the bass heavy 'Alligator', on which she swaps her usual vocal approach, which evokes both Stevie Nicks and Belinda Carlisle, for the deadpan delivery of Cate Le Bon. The Welsh musician's spirit recurs on the closing track, which is a cover of 'Willow's Song' by Paul Giovanni. Taken from the soundtrack of The Wicker Man, she gives it a krautrock inflection that hints at her possible future direction. 
While Sound of the Morning undoubtedly develops her songcraft and expands her musical frames of reference, there's a sense she wants to ease the listener along rather than produce a Kid A-style left turn. It's this approach of gentle encouragement that makes her new album the ideal sound of an early summer morning.
Please support Loud And Quiet if you can
If you're a fan of what we do, please consider subscribing to L&Q to help fund our support of new musicians and independent labels
You can make a big difference for a few pounds per month, and in return we'll send you our magazines, exclusive flexi discs, and other subscriber bonus bits and pieces
Try for a month and cancel anytime