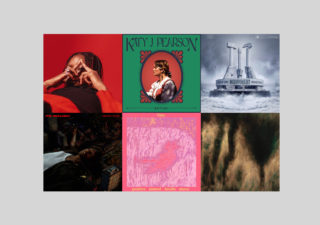 Before music goes to sleep for the year, here are November's best new albums
10 late contenders for your Christmas list
For the few of us not counting down the days until Chris Kamara's second Christmas album in as many years (unbelievable), the end of November signals, largely, the end of the year's new music. Before we know it, we'll all be putting on our best reindeer pyjamas and settling down to watch The Pogues win the new civil against Laurence Fox. For all the nostalgia, November's been a month where the debut album has reigned. And, you know, William Basinski. Here are the ten we think will see you through until 2021.
Artist: Pa Salieu
Title: Send Them To Coventry
Label: Warner
What is it? The confessional debut mixtape from Gambian-by-Coventry rapper Pa Salieu placing a lo-fi edge to grime, drill, trap and dub.
L&Q says: "The giddy shock of the possible emanates from nearly every track, with Pa constantly pushing out at the boundaries of his musical horizons".
Read Max Pilley's full review here.
Artist: Infinity Knives
Title: Dear, Sudan
Label: Phantom Limb
What is it? An epic maiden voyage through drone, hip-hop and operatic minimalism from Tanzanian-born producer and musical polymath Tariq Ravelomanana.
L&Q says: "What's remarkable about Dear, Sudan is how well these disparate parts fit together to form a cohesive album, carrying the listener effortlessly from track to track, immersing you in Ravelomanana's sonic universe."
Read Jessica Wrigglesworth's full review here.
Artist: Tiña
Title: Positive Mental Health Music
Label: Speedy Wunderground
What is it? The debut full-length release on Dan Carey's tastemaker label, packed with danceable tunes about anxiety, depression, fear and failure.
L&Q says: "In a world without gigs, listening to Tiña is like peering through the lens of a virtual reality headset."
Read Ollie Rankine's full review here.
Artist: Sirens of Lesbos
Title: SOL
Label: Sirens of Lesbos
What is it? A debut of groove-led electronics, R&B and funk from the Swiss quintet originally only in this to write an Ibiza hit for fun.
L&Q says: "This is an ambitious body of work that's excellently realised, this dynamic debut presents endless promise and potential in Sirens of Lesbos' artistry."
Read Zara Hedderman's full review here.
Artist: William Basinski
Title: Lamentations
Label: Temporary Residence
What is it? The brand new studio album from one of ambient music's most influential modern composers, constructed from tape loops and four decades' worth of marinating archives.
L&Q says: "Viewed from one angle, [the album] can sound like a cavern of decay, sonic matter crumbling from sonic matter. At other vantage points, at another time of the day, it sounds like a yawning burst of light."
Read Fergal Kinney's full review here.
Artist: FLOHIO
Title: No Panic No Pain
Label: Alphatone
What is it? The debut full-length from perennially hotly-tipped South London rapper that for any shortcomings feels joyously like rap for rap's sake.
L&Q says: "What comes through on her debut mixtape No Panic No Pain is her complete devotion to rap. She's technical without making a whole thing of it, and she's the kind of rapper whose flows alone will catch in your head."
Read Alex Francis's full review here.
Artist: Katy J Pearson
Title: Return
Label: Heavenly
What is it? A Fleetwood Mac-friendly solo debut from the Bristolian outlaw-come-wannabe 1970s Texas mom, freed from the pressures of a major label contract.
L&Q says: "An intimate reflection of her past and present, the aptly named Return is a body of work defined by its own stubborn determination to one day exist."
Read Ollie Rankine's full review here.
Artist: Camila Fuchs
Title: Kids Talk Sun
Label: Felte
What is it? A third full-length, sun-drenched electronic pop album from Mexican/ German duo Camila de Laborde and Daniel Hermann-Collini about the exchange between humans and nature.
L&Q says: "Kids Talk Sun is a class act in deliberate naivety, a pre-historic embrace expressive of the meaning-making we might exhibit today in our reappraisal of the vaguely pagan, or the magickal aura of seasonal celebrations. Only with synths."
Read Dafydd Jenkins's full review here.
Artist: Molchat Doma
Title: Monument
Label: Sacred Bones
What is it? A synth-heavy lockdown album from the underground Belarussian post-punks turned viral TikTok hit-machine.
L&Q says: "The music plays like an apocalyptic dance party, fusing post-punk, new wave and synth-pop to create a moody but compulsively listenable record."
Read Isabel Crabtree's full review here.
Artist: Landshapes
Title: Contact
Label: Bella Union
What is it? The London band's first album in five years – a vibrant paean to alienation through beguiling melodies and rich experimental art-pop.
L&Q says: "It's genuinely impressive that an album with this many ideas doesn't feel overstuffed or spread too thin."
Read Sam Reid's full review here.
Please support Loud And Quiet if you can
If you're a fan of what we do, please consider subscribing to L&Q to help fund our support of new musicians and independent labels
You can make a big difference for a few pounds per month, and in return we'll send you our magazines, exclusive flexi discs, and other subscriber bonus bits and pieces
Try for a month and cancel anytime