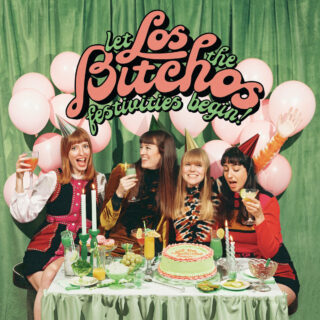 Los Bitchos
Let The Festivities Begin!
6/10
Musicians come to London from all over the world, inspired by the city's long and storied musical heritage. They in turn make great art, adding to that heritage and keeping this brilliant tradition going. Until recently that is; post-Brexit, it's become increasingly difficult for foreign artists to play in the UK – let alone to settle here.
Los Bitchos, a London based group made up of members from Sweden, Uruguay, Australia and London, are proof, if any were needed, of how detrimental these new restrictions could be. Only a band with such an eclectic mix of cultural references could produce a sound like this. There's a mix of everything on their debut album, Let The Festivities Begin!; cumbia, anatolian rock, Morricone-esque western, psych and post-punk, blended together to form a heady, guitar-heavy cocktail. There's not too much distinction between the tracks, which are largely instrumental, but that's not necessarily a bad thing; theirs is the kind of hypnotic, unfurling music that you can get lost in, and the album floats along in such a way that you only really notice you're listening when it ends. 
Which isn't to say the music isn't good – these are four undoubtedly skilled musicians, and their riffs can rival King Gizzard and the Lizard Wizard for dexterity (on lead single 'Las Panteras' especially). Enlisting their friend Alex Kapranos to help produce has definitely paid off too – there's a sleekness to LTFB! that belies their maximalist approach, and gives the final product a sense of maturity despite its silliness. On top of all the other references, there are large nods to cinema, and much of the album does resemble the soundtrack to a spaghetti western or a Quentin Tarantino movie. Like Tarantino, Los Bitchos could be accused of putting style before substance. Their music is not profound, but it's meant to be – as their name suggests, Los Bitchos aren't taking themselves too seriously. As evidenced by their raucous live shows, both supporting Mac DeMarco and on their own, the thing this band takes really seriously is fun. And this record is the perfect embodiment of that: a vibrant, joyful and sometimes camp explosion of colourful sound, which like its title, is a call to let it all go and enjoy the party.