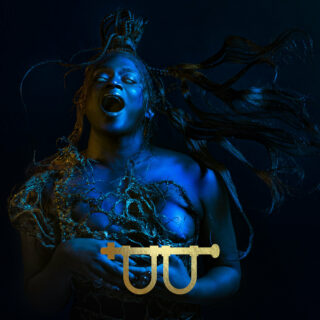 Experimental electronic artist Lotic's music has always represented something of a confluence. Growing up in Texas, her youth was soaked in the ambition and pageantry of Americana. However, Lotic as an artist came to prominence when she upped sticks and moved to Berlin in her early 20s. 
It was in the German capital where she crafted her baroque, grand, and abrasive electronic sound, playing as a resident DJ at the city's infamous Janus club night. Janus' non-stop hedonism fed an outsider culture that attracted DJs who sought to discover sounds that didn't yet exist. Even in these surroundings, Lotic stood out.
She quickly got into the habit of releasing lauded EPs, before putting out her ferocious 2018 debut album Power. However, it feels that this was all a polite preamble for second album, Water. 
Across nine breathtaking tracks, Lotic bursts the banks of her imagination, fetching sounds and tempos that hitherto felt confined to dreamspace, all guided by the surreal swirl of her voice.
Water is simply awash with supreme moments of serene and scintillating musicality. From the album-opening procession of harmonic but formless reverberations found in 'Wet', to the stalking lunar energy of 'Emergency' that courses with a tidal rhythm, to the bombastic drums that stampede through the chthonic opening of 'Come Unto Me' like a These New Puritans track, to the ANOHNI-meets-Burial-meets-Joanna Newsom-like pleasure found in the otherworldly 'Always You', There isn't a moment to be found that isn't dripping in sincerity, surprise or invention. 
Water ends with the soaring melodrama of the nearly ten-minute 'Diamond', a track only rivalled by MAGDELENE-era FKA Twigs in ambition, fragility, sensuality, and poise. The closer's marching menace builds to a pulsating tsunami that drowns you in a transcendent flurry of drums, strings, echoes, heart-wrenching beats, and Lotic's dramatic soprano vocal. It casts one final ripple in this truly revelatory record. A masterpiece, writ in water.
New monthly memberships available
Here's a new thing: our membership scheme now has a pay-monthly option, plus a load of exciting new digital stuff for people who support what we do. It's actually excellent value, honest, and will help us continue to promote new independent artists and labels.
Sign up and you'll receive our physical magazines delivered to your door, our digital editions, exclusive podcasts and playlists and access to our EXTREMELY glamorous Members Lounge. You'll be the envy of all your friends.