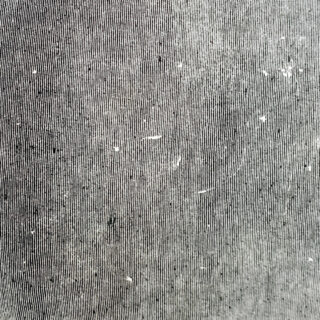 It's inevitable – and a little unfortunate – that Hey What, the thirteenth studio album from Low, will only be discussed in direct relation to its predecessor, 2018's Double Negative. That was the album on which the already beloved Minnesotan band took their greatest creative leap forward yet, a deeply strange, spectral record that sounded like little else they or indeed anyone else had created before (intermittent shades of the work of experimental artists like Ian William Craig, William Basinski or, perhaps, Mark Hollis notwithstanding).
Upon its release, it was greeted by many as an outstanding sonic analogue of Trump's America, a baffled and battered lash outward from deep within a suckerpunched nation. Yet there was always something about that that seemed a bit literal; to these ears at least, it was just as fundamentally a confrontation of far more deep-rooted, profound decompositions and traumas as a timely response to the Washington soap opera. Aesthetically as much as anything else, Double Negative could not be adequately appreciated solely as a response to American neoliberalism's latest schism; as is so often the case, it felt a little like the sheer formal brilliance of the record was getting lost in the clamour to ascribe to it an unambiguous political meaning – unambiguous being the operative word. Not, at all, that we shouldn't strive to carefully frame music in its social and political context – that's vital – but great art is also capable of (and deserves) a certain autonomy. The unique power of Double Negative is inextricable from its singularity, its abstraction, its noisy, seasick imprecision – and, in certain ways, that's just as true of Hey What. 
If Double Negative was an arresting, shapeshifting intrusion into the contemporary alternative rock landscape, a sudden starling cloud of an album that constantly lurched, disentangled, disintegrated and reconstituted itself before blinking out of view, Hey What is the sound of those birds coming home to roost. From the intro of opening track 'White Horses', a series of melting slide guitar samples solidifying into a jittery chord progression that slowly augments itself with more noise and dissonance beneath Alan Sparhawk and Mimi Parker's interlocked vocals, it's clear we're listening to a self-consciously post-Double Negative Low, who've understood the potency of the niche that record found for them. Yet from the production to the vocal performances, there's a newfound crispness here, an audible confidence that was (necessarily) missing from this album's anxious predecessor. 
'Days Like These' provides another striking, if sly, example of that confidence. As the lead single with which Hey What was announced, it's actually a bit of a red herring, its clarion-call first half somehow even serving that purpose for the overall song itself. Its near-acapella beginning is one of the boldest statements Low have ever made, and this boldness nearly makes it come unstuck: lyrics like "When you think you've seen everything, you'll find we're living in days like these", sung with utmost earnestness, drip with a certain "in these strange and unprecedented times…" pseudo-candidness that just feels clumsy. Yet as the song progresses, familiar slabs of distortion pounding home each verse before the instrumentation opens out into a wonderfully desolate vista of nudging kick drums, impressionistic vocals and rich, bassy veils of synth, this unfamiliar boldness is brilliantly undercut, Sparhawk and Parker's every repetition of the word "again" sounding more exhausted, smartly inverting the track's platitudinous opening mantra: difficult "days like these" are not, as the first verse might have suggested, somehow exceptional – and that's what makes them even harder to deal with.
Having said that, Hey What, taken cumulatively, radiates a little more hope than much of Low's recent work. It's hardly happy-clappy, and there are vast swathes of this album that are as bleak as one might expect from a band who sounded world-historically miserable before Covid-19 turned everything inside out, but the solace that Low's Sparhawk and Parker (a married couple as well as creative partnership) draw from faith and family is keenly felt. It's not an optimistic record as much as a stoic one; it makes no promises about the future, but seems at least to have the temerity to believe that there will be one. 
A three-song run early in the album showcases several glimmers of this cautious resolve. The elegant arc of the 'I Can Wait's central melody, plaintive and hymnal; the toddling synth of 'All Night', guided along by a tender, parental vocal; the broad sweep of 'Disappearing', whose mentions of "cold comfort" and "the constant face of the unknown unknown" evoking a certain broadness of perspective, a willingness to be lost in the enormity of life as we gaze at "that disappearing horizon". Again, it's hardly 'Walking on Sunshine', but Low's intermittent, intimate appeals to both their and our better judgement strike what feels like a necessary chord.
There are several places here where the band draw not only upon their most recent output, but also cast a creative net out through their entire back catalogue. 'More' is the track that most neatly encapsulates the full range of their artistry: the flickering noise of recent years coats its instrumentation like oil on a bike chain, but Parker's crystal vocals are elevated high above the dirge to deliver a lilting melody that could just as easily be layered atop the skeletal atmospherics of their youthful slowcore or the relative accessibility of the almost-conventional-almost-hits they've been variously capable of throughout their career ('Murderer', 'Monkey'). The arrangement is head-spinning, the distortion allowing a wild fizz of contrasting harmonics to shear away from the central chords with the abandon of sparks off an anvil, all propelled along by a dead-simple, dead-eyed kick drum set low but purposeful in the mix. Elsewhere, 'The Price You Pay (It Must Be Wearing Off)' also evokes the Low of slightly longer ago, its stately pace and monolithic textures recalling tracks like the portentous 'Violent Past', from 2007's Drums and Guns; 'Don't Walk Away', were its digital curlicues and sea-breeze synths subbed out for acoustic guitars, could happily sit on almost any of the group's (fairly diverse) early-2000s releases. Quite regularly, too, the album's arrangements take a dynamic plummet, settling at a subterranean level of reverb, vocal, and barely-there chords that reminds you of just how sparse this band's sound was when they first started out.
I set up this review by noting the sad inevitability of a constant comparison between Hey What and Double Negative, and I'd like to take this opportunity to congratulate myself on being right – it's what I've spent most of the piece doing. The truth is, though, that this new album does feel like a reflexive project for Low, a piece of work that re-evaluates their craft and investigates what it all means. On a technical level, they sound as good as ever, the performances supple and heartfelt, the timbral innovations that made Double Negative such a revelation retaining their power now the surprise value of that release has subsided (BJ Burton's sensitive production helps). In pure, old-fashioned songwriting terms, it's harder to be so definitive; the most affecting moments here are mostly those in which the track structures suddenly collapse in on themselves, the internal logic of the record feeling looser than before, occasionally lacking a certain bite. The uneasy compacts between lyric and melody, timbre and dynamic, minute detail and overall narrative that just about hold together the very best Low records are still just about intact, but they're shaky.
Yet perhaps that's sort of the point: Hey What is all about the diffuse tensions of contemporary life, the trembling balances of social forces that seem more fragile than ever, and the tiny personal details that make it all more or less bearable day-to-day. In this way, it's in dialogue with work from across their entire 27-year career, not merely their last album, although current events and the singularity of that previous record arguably throw those themes into sharper relief than ever. It's a richly imperfect LP, whose broad contours one can just about discern, but onto which an infinite number of meanings can be projected; for that, it's a record worth cherishing.
Please support Loud And Quiet if you can
If you're a fan of what we do, please consider subscribing to L&Q to help fund our support of new musicians and independent labels
You can make a big difference for a few pounds per month, and in return we'll send you our magazines, exclusive flexi discs, and other subscriber bonus bits and pieces
Try for a month and cancel anytime