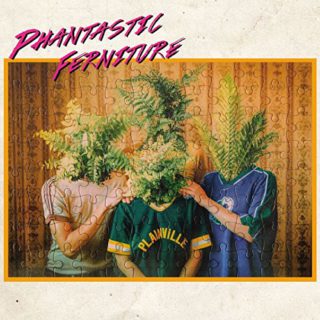 Phantastic Ferniture
Phantastic Ferniture
9/10
"I'd gone straight into folk music, so every experience I'd had on stage was playing sad music with a guitar in my hand. I thought, I would love to know what it's like to make people feel good and dance," explains Australian singer-songwriter Julia Jacklin of her new musical project, Phantastic Ferniture. "It feels really good," she says with satisfaction. "It's like having an alter ego."
Indeed, Phantastic Ferniture (made up of Jacklin and pals Elizabeth Hughes and Ryan Brennan) here present a self-titled debut album that comes close to garage-rock perfection. Born one late night in the basement of Frankie's Pizza, a fairy-lit Sydney dive bar, Phantastic Ferniture are a far cry from Jacklin's solo creative output, known for its melancholic alt-country musicality. Instead, songs like 'Fuckin 'n' Rollin', the album's lead track, combine towering and silky vocals with hard-to-shake bass lines and twinkling and summery guitar hooks.
Of course, the album isn't without moments of darkness. The entirety of 'Phantastic Ferniture', in equal measures brooding and care-free, wouldn't be out of place sound-tracking some quirky Ellen Page movie brimming with gloom and witty one-liners. As likely to make you dance as shed a tear while you do so, this debut is full of Jacklin's pain-pricked cut-to-the-quick flair, here somewhat intoxicated by the upbeat instrumentalism of bandmates Hughes and Brennan. "You said I gotta go, my love / I will never know who I am if I stay here laying beside you / Even if that is what I wanna do / I gotta get on, yeah," sings Jacklin infectiously on 'Gap Year', straying, thankfully, never far from her existential crisis happy place.
New monthly memberships available
Here's a new thing: our membership scheme now has a pay-monthly option, plus a load of exciting new digital stuff for people who support what we do. It's actually excellent value, honest, and will help us continue to promote new independent artists and labels.
Sign up and you'll receive our physical magazines delivered to your door, our digital editions, exclusive podcasts and playlists and access to our EXTREMELY glamorous Members Lounge. You'll be the envy of all your friends.