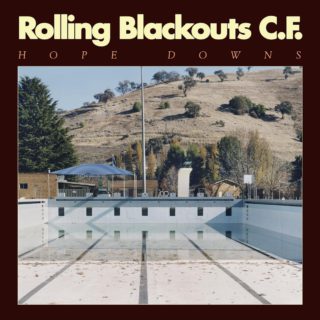 Rolling Blackouts Coastal Fever
Hope Downs
(Sub Pop)
8/10
Maybe it's down to the name, but Rolling Blackouts Coastal Fever are undoubtedly a seaside band. The Melbourne quintet's debut record's lo-fi jangle brings to mind sunshine and saltwater, murderous seagulls with death in their hearts and chips on their mind. In fairness, this association might also have something to do with the fact that 'Hope Downs' is due out in June, and it's finally starting to get warm in London. We all deserve a day at the beach at this point.
But there is a freshness here that feels like a holiday. Following on from their widely-acclaimed recent EP, 'French Press', RBCF have pulled together ten songs that drift from indie, to country, to pop, inside a single verse. The result is at once unique and familiar – different, without being too alien. On the rollicking 'Time In Common' they even manage to work in a hint of pub rock – or maybe house party rock, as they sing about sitting 'on the couches, at other people's houses.'
'Hope Downs' is, as the band have said, "a collection of postcards about wider things". Snapshots of other lives. As things heat up it's good to get away for a while, and Rolling Blackouts Coastal Fever have pressed the ideal mini-break into an LP.
Free Protomartyr flexi disc with this month's magazine
Subscribers to Loud And Quiet now receive a limited edition flexi disc of a rare track with their copy of the magazine
This month's disc is from Detroit punk band Protomartyr