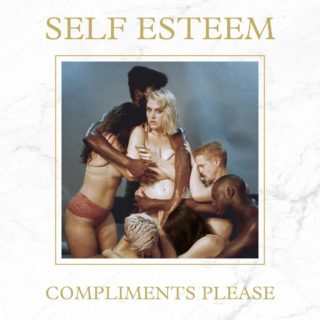 Self Esteem
Compliments Please
(Fiction)
7/10
Finally free after more than a decade in folk-pop duo Slow Club, Rebecca Taylor has since spoken of feeling creatively and emotionally stifled for large portions of these formative years. With this aptly-titled solo project she's finally shooting from the hip, delivering a defiant declaration of self-love and the most adventurous songwriting of her career.
Recorded with Johan Karlberg of The Very Best, 'Compliments Please' is an intensely physical set, packed with playful touches. With rhythm foregrounded, songs seem constructed from the beat up, be it the staccato handclaps punctuating a capella vocals on 'Actors' or the syncopated shimmy of 'Steady I Stand', which embellishes desert blues with swooning strings. Gospel harmonies meet 808s & Heartbreak-inspired AutoTune on the beatific 'In Time', while the 'The Best' races by in a blur of snaking synths, galloping percussion and passive-aggressive kiss-offs like, "You say that I'm a nightmare, what does that make you?"
This sorry-not-sorry approach dominates Taylor's lyrics which are, by turns, vindictive, vulnerable, seductive, self-deprecating and – as ever – wickedly humorous. "I'm gonna get drunk and slag you off, then I'm gonna go home and eat my feelings up," she declares on 'In Time', while on 'Girl Crush' she warns her lover, "I'm not usually this kind, so experiment in your own time."
Offering an exhaustive catalogue of romantic disappointments and dramatic feelings, 'Compliments Please' is about as subtle as it sounds. But then that's precisely the point. After half a lifetime spent diminishing the more "difficult" facets of her personality to appease others, Taylor is done pretending. This debut delivers a true portrait of the artist, flaws and all.
New monthly memberships available
Here's a new thing: our membership scheme now has a pay-monthly option, plus a load of exciting new digital stuff for people who support what we do. It's actually excellent value, honest, and will help us continue to promote new independent artists and labels.
Sign up and you'll receive our physical magazines delivered to your door, our digital editions, exclusive podcasts and playlists and access to our EXTREMELY glamorous Members Lounge. You'll be the envy of all your friends.