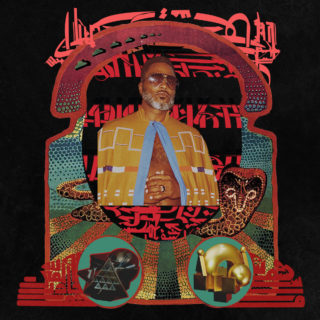 Shabazz Palaces
The Don Of Diamond Dreams
(Sub Pop)
8/10
In his book Dead Precedents: How Hip-Hop Defines The Future, American scholar Roy Christopher describes hip-hop as a form of "black cyberpunk". It's not a huge leap – both movements emerged at a similar time, both hijack the mainstream for disruptive ends, and both build a new world from the materials of the old. "Cyberpunk might be assimilated, co-opted, and unseen, but its spirit lives on in hip-hop," Christopher writes. "The promised land is a world of words, a possible future brought into being by making a promise, whether spoken, written, hacked, or coded."
Few groups embody this spirit better than Shabazz Palaces, who have long pushed familiar hip-hop forms into less explored territories, including an explicit foray into science fiction territory with 2017's Quazarz albums. The Don of Diamond Dreams finds them in similarly cyberpunk territory, sifting through popular trap and emo-rap styles to recontextualise and build upon. This is a personal matter, too: lead performer Ishmael Butler's son Jazz is better known as the emo-rap star and Lil Peep collaborator Lil Tracy. It's clear that Shabazz Palaces take a playful but genuine interest in what the younger generation of hip-hop stars are up to.
This is made obvious by tracks like lead single 'Fast Learner (feat. Purple Tape Nate)', where an instrumental dominated by echoing post-punk drums and punchy techno kicks ends up meeting a plaintive synth lead which wouldn't be out of place on a Metro Boomin instrumental. Butler raps, "Gilded age, redirected rage / Prowling across the stage, it's a new age", referencing the criticisms levelled at new-school hip-hop by nostalgists before pointing out the obvious: time has moved on.
Butler often follows the example set by melodic trap rappers by submerging himself into the beats, as on 'Wet', which sees him sinking under whispered adlibs and a wavering bassline. A similar trick happens on 'Bad Bitch Walking', which pushes mainstream hip-hop's recent fascination with the psychedelic to a logical extreme.
The Don of Diamond Dreams push further out into cosmic sounds feels like a retort to '90s boom-bap traditionalists who rip on changing fashions out of bitterness. It's as Butler raps: "Scooping money out the pot like it's cheese dip / Why you worry how another man's jeans fit?"  This album feels like more than a straightforward rebuttal, though: it feels like a possible future.
Please support Loud And Quiet if you can
If you're a fan of what we do, please consider subscribing to L&Q to help fund our support of new musicians and independent labels
You can make a big difference for a few pounds per month, and in return we'll send you our magazines, exclusive flexi discs, and other subscriber bonus bits and pieces
Try for a month and cancel anytime