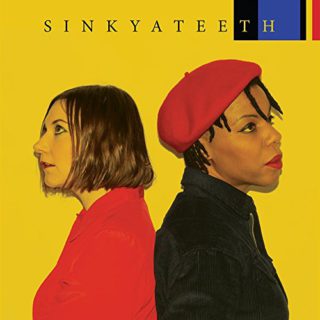 Sink Ya Teeth
Sink Ya Teeth
8/10
Sink Ya Teeth are Maria Uzor and Gemma Cullingford, a pair of inveterate DIYers from Norwich who have built a cult fan base by pressing up their charmingly understated homemade electro in the form of zines and 7-inches. Their predilection for old-fashioned media suits the music: primitive drum machines rub shoulders here with monophonic synth bloops, rubbery bass lines and vocal delivery that alternates between dark yearning and icy, post-modern detachment, giving the album an undeniably retro character, as if it's just stepped out of the Hacienda at a point when its authors can barely have been toddlers.
Not that 'Sink Ya Teeth' is merely an exercise in period style: accompanying the splodges of early Chicago house smudged into New Order-esque one-finger guitar is a series of rather timeless melody hooks that suggest lingering pop fondness lurking behind the motorik machine funk. Particularly impressive in this regard is the delightfully misanthropic 'Friends', which completes three minutes on a single chord without ever losing its bite, and the delicious minimalism of 'If You See Me', which renders its serpentine harmonies all the more satisfying. Meanwhile, the insistent throb of 'Glass' finally answers, in style, the question of how 'I Feel Love' would've sounded had Donna Summer been from East Anglia.
There are missed marks when, as on 'Substitutes', overly epic trance synth swooshes invade the album's sleek aesthetic, but for the most part, 'Sink Ya Teeth' is a nourishing, moreish, and appropriately tactile collection of dance music on which to chew.
Free Protomartyr flexi disc with this month's magazine
Subscribers to Loud And Quiet now receive a limited edition flexi disc of a rare track with their copy of the magazine
This month's disc is from Detroit punk band Protomartyr