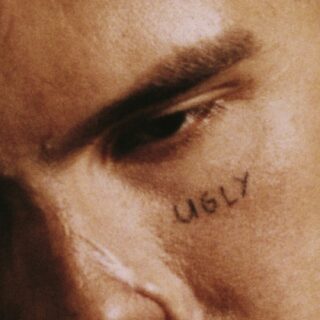 You know what they say: men will literally get Dan Carey to produce their breakaway third album rather than go to therapy. Well, at least I presume Slowthai said something along those lines.
In truth, Slowthai did go to therapy as well, and now we have his new record, UGLY, clouded by a nostalgic sense of punk-rock romance and portended by the horizon of an uncertain future.
What stands out at first glance is the LP's bulging personnel credits. Hosting the cream of the UK crop on production duties (recorded at Dan Carey's home studio with further production from Sega Bodega) and a host of musicians who, in a bygone age, may well have been the stars of the last four months' worth of NME pull-out posters. It's a far cry from the scene he might have had more in common with when he emerged – the boundary-pushing hip-hop of artists like A$AP Rocky, Brockhampton and Denzel Curry.
Track-to-track, this shift never feels seismic, but by the album's end the impact is stark. It's a curious collision of punk, rap, and indie – a sound that feels both big label and self-produced; and at times, a reminder of how eerily small the British music scene seems to be.
When it works, it's utterly sublime. The title track is the album's most overtly complex,  a winding-road of overlays, delays and despondent guitars (provided by Fontaines D.C.) seeking shelter in a deluge of synths. It constantly rides along the razor's edge of becoming an absolute shitshow and feels decidedly alive and vital as a result.
However, when the experiment fails, UGLY can feel laboratory-derived. Single 'Feel Good' sounds like the rotting off-cuts of breakout 2018 single 'Doorman' ground through a mincer by the world's second-best Damon Albarn impersonator on production. Elsewhere, the limpid lift of Pixies atmospherics for 'Falling' has all the conviction and purpose of an Instagram filter.
While musically UGLY (short for U Gotta Love Yourself) is a mirror of the Northampton musician's discordance; lyrically much of it is rooted in a reckoning with the disorientation of becoming a father. In the industrial bombardment of opener 'Yum', only seconds separate slowthai's supplication to let him "self-destruct because I don't give a fuck" from him cherishing a moment with his son when he kisses him goodnight on the forehead in following track 'Selfish'. In 'Never Again', a drum-and-bass-dominated track, the BPM flatlines when Slowthai gives a solemn retelling of hearing about a woman murdered by her drug-addled husband. The child left behind is the after-print of the song.
It's an absolute metric fuck tonne of information to get across. As a result, Slowthai's vocals are working overtime to make the album's cognitive dissonance work. He routinely switches his delivery up, swapping numbed singing for Jamie T-like yelps and what borders on sprechgesang and spoken word. On album standout 'Tourniquet' he even juggles the extremes of soft lullaby and full-throttled yells. Notably, straight rapping is essentially left on the bench on UGLY. Perhaps due to the artistic direction, perhaps not – but it only takes a cursory listen of '45 SMOKE' or 'VEX' from his 2021 release TYRON to remember the sublime flow that is absent on UGLY.
Intense, disastrous, and confrontational, but also, tender, empathetic, and reflective, UGLY is a record routinely hijacked by its shadow. It's ungainly at times, and it can be hard to tell whether these are risks or an odd way of playing it safe; yet beneath all the mysteries this record holds, it's undeniable that UGLY reaches unexpected and fresh artistic heights for the Northampton enfant terrible.
Please support Loud And Quiet if you can
If you're a fan of what we do, please consider subscribing to L&Q to help fund our support of new musicians and independent labels
You can make a big difference for a few pounds per month, and in return we'll send you our magazines, exclusive flexi discs, and other subscriber bonus bits and pieces
Try for a month and cancel anytime