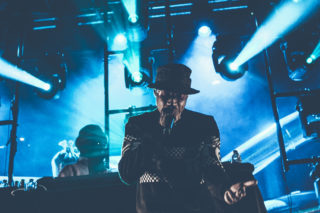 Rejjie Snow, Wiki and slowthai on the same bill was three different approaches to the art of hip-hop
Rejjie Snow may be the name at the top of the poster, but each of the four acts at the Roundhouse promised something different. First up was London R&B artist Ebeneezer opening proceedings before Nottingham MC slowthai offered a completely different proposition. From the off his energy levels were sky high, bounding about the stage and asking the earlycomers to get riotous with him as he gradually lost clothes until he was in stood in his boxers atop an amp. His commitment was admirable, but his craft was lacking as he performed with a backing track and left lines incomplete. The enthusiasm was infectious but it's hard not to think that right now his performance is far more suited to an underground club than the open space of a theatre. Tighten his craft though and this won't be a minor criticism for long.
Next up New York rapper Wiki, previously of RATKING. Immediately he showed himself a to be a cut above. Working his way through tracks from his debut solo album, last year's excellent 'No Mountains In Manhattan', and as soon as he touched the mic it was clear Wiki was in a different league to everyone else on the bill. He barely misses a beat, riding the rhythms smoothly as he roams around the space, gradually building the intensity of the show. He's a man who exudes the calm confidence of someone who loves to rap and would stay on that stage all night if he could have.
Tracks like 'Mayor', 'Made For This' and 'Pretty Bull' received the most enthusiastic reactions, and he broke from the "regularly scheduled programming" to throw in a RATKING cut for his "three fans on the left" who requested it. 'No Mountains…' was one of 2017's stand out rap albums and on the Roundhouse stage Wiki, still only 24, proves he is already one of the genre's emerging master technicians.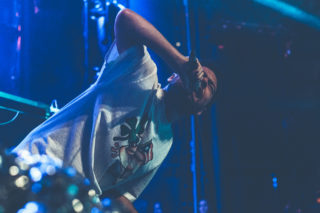 Rejjie Snow's take a different thing again – finishing off the evening wearing a Fendi bucket hat and shades throughout his headline set. Currently touring his 'Dear Annie' the crowd was clearly his. Made up almost entirely of teenagers in fashionable streetwear (read: hypebeasts), smartphones flew up as the Dublin rapper started his set and they stayed up throughout. And he's a smooth operator, gliding effortlessly across the stage as he worked through songs from that debut album and last year's 'The Moon & You' mixtape, as well as a few older cuts from the 'Rejovich' EP such as '1992'.
Every word of tracks like 'Pink Lemonade', 'Egyptian Luvr' and 'All Around The World' were enthusiastically sang back by the fans, but the show always felt somewhat lacking. With no backing band and few visual elements, and Snow had neither slowthai's zeal nor Wiki's engaging skills. So, it was a show that was fine, but you can't help the feeling that he's going through the motions a touch rather than truly revelling in being able to headline a venue this size. What made him the headliner tonight was his pop sensibilities, hooks and silky instrumentals. It's a touch one-dimensional, albeit clearly a successful one. 
Rejjie Snow @ London, Roundhouse on 14 March 2018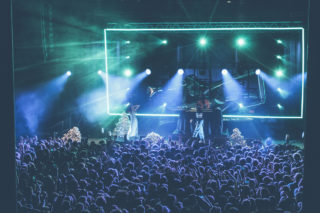 Please support Loud And Quiet if you can
If you're a fan of what we do, please consider subscribing to L&Q to help fund our support of new musicians and independent labels
You can make a big difference for a few pounds per month, and in return we'll send you our magazines, exclusive flexi discs, and other subscriber bonus bits and pieces
Try for a month and cancel anytime