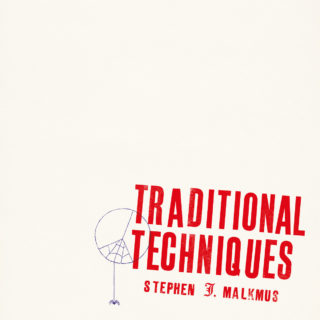 Stephen Malkmus
Traditional Techniques
(Domino)
8/10
The feeling that you might've put on the wrong record looms large over the first minute or so of Stephen Malkmus' third(ish) solo album, as lush, drowsy drones creep into earshot amid gently noodling middle-eastern instrumentation and fluttering flute — particularly if the stock image of Malkmus in your head is of the ironically deadpan King Slacker at the head of Pavement, or even the calmly self-assured leader of The Jicks, and not the more curious experimenter of recent times. But even if the synthpop and electronica of last year's Groove Denied is your blueprint, Traditional Techniques is still quite the departure: opening track 'ACC Kirtan' sets the tone for the entire record — bucolic, warm, minimal, pleasingly stoned – rendering the tastefully abstracted soundscapes of 'Signal Western' and 'Amberjack', all mournful vocals over glistening prairie-land resonance, undeniably beautiful, if simultaneously uncanny. The likes of Bill Callahan or Bonnie Prince Billy lean into this sort of lush pastoralism, but a musician as meta as Malkmus? Surely not.
That said, moments here also feel undeniably Malkmusian, despite the outback instrumentation: both 'Shadowbanned' and 'The Greatest Own In Legal History' carry the sort of trademark tight corners, lyrical crookedness and coyly knotty riffs that even a lap steel guitar and hurdy-gurdy can't disguise, and 'Juliefuckingette' — a charming nod to folk-rock with a perfect lilt and playful rhyme scheme — is almost imaginable as a mid-period Pavement track. More often, though, Traditional Techniques is simply an expertly written and performed exploration of muted psych-rock and various strands of folk music, with Malkmus stretching his legs apparently just because he can.
There's also a sense, though, that Traditional Techniques might be rather timely for Malkmus. After all, in the year that he and his old chums are wheeling out Pavement once more so that huge outdoor crowds can shout "No big hair!" in unison as crunchy/sloppy guitars careen along in the background with joyful abandon, this act of wholesome, serene, (mostly) sincere and age-appropriate songwriting is perhaps an ideal tonic for that retro jamboree, giving him licence to unquarantine his past without apology or embarrassment. "Does anybody like me? No pressure," Malkmus enquires sleepily on 'Cash Up'. For once, you're inclined to believe him.