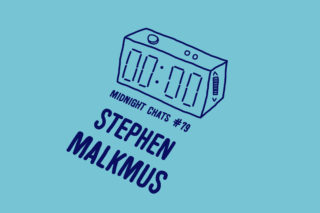 Stephen Malkmus: Midnight Chats: Episode 79
Here's some Pavement reunion intel and a lot of chat about movies
You know Stephen Malkmus – the Slacker Prince; the man who, with Pavement, invented that way of kinda talking lyrics better than most indie singers sing them; the former member of The Silver Jews who recently lost his dear friend and bandmate in that group, the incredible David Berman.
Of course Malkmus needs no introduction in the world of independent music; he largely embodies is, continuing to make it up as he goes, most recently with his electronic-leaning solo album Groove Denied.
For this episode of the podcast, Malkmus, in full Malkmus mode, talks about that record, clubbing in Berlin, the movies he loves, what to expect from 2020's Pavement reunion, and any other flannel I toss his way. Sit up and enjoy, because laying back might be the end of you.
Free Protomartyr flexi disc with this month's magazine
Subscribers to Loud And Quiet now receive a limited edition flexi disc of a rare track with their copy of the magazine
This month's disc is from Detroit punk band Protomartyr