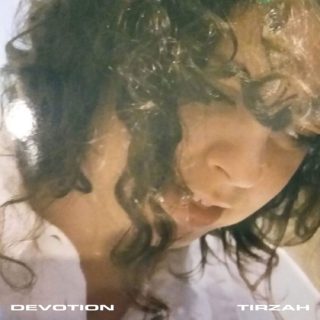 If it feels surprising that only now is Tirzah releasing her debut album, that's understandable – it seems like she's been around forever, putting out material sparingly but being responsible for some of the finest lo-fi dance tracks of the past few years. 'Devotion' arrives as her first release since signing to Domino and follows on from a pair of EPs all the way back in 2013 and 2014 ('I'm Not Dancing' and 'No Romance'). It's ultimately born of the same kind of creative process, not least in terms of Tirzah's ongoing musical partnership with Mica Levi. Levi is becoming better known these days for her film work (her score for Pablo Larrain's Jackie earned her an Oscar nomination last year) but on the basis of 'Devotion' she clearly remains a formidable producer, too.
Tirzah herself, meanwhile, provides the lyrics, melodies and vocals, and 'Devotion' is the sound of her coming into her own after years of honing her craft and recently becoming a mother. There's an intriguing instrumental fluidity to the album, with entire tracks, like 'Guilty' and the piano-centred 'Affection', that lack any percussion whatsoever, and yet they still feel like fully-formed compositions. Elsewhere, single 'Gladly' is a gorgeous standout, with laidback vocals that sound like The xx covering Aaliyah, while 'Basic Need' and 'Go Now' both use fluttery synths to sparing and powerful effect.
When there are beats, meanwhile, there's a running theme of them being weirdly choppy, almost glitchy, especially on early highlight 'Do You Know' and the title track. The latter has that D'Angelo-style languidness to the drums. Not everything that Tirzah tries comes off ('Say When' disrupts the pace of the record a little late on) but in the main 'Devotion' is a bold statement of intent from a young artist who already sounds as if she's carved out her own niche.
New monthly memberships available
Here's a new thing: our membership scheme now has a pay-monthly option, plus a load of exciting new digital stuff for people who support what we do. It's actually excellent value, honest, and will help us continue to promote new independent artists and labels.
Sign up and you'll receive our physical magazines delivered to your door, our digital editions, exclusive podcasts and playlists and access to our EXTREMELY glamorous Members Lounge. You'll be the envy of all your friends.