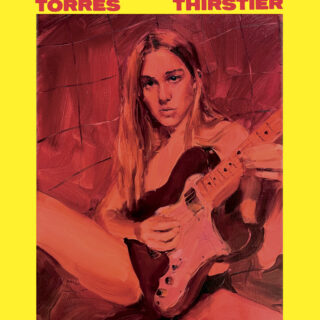 TORRES
Thirstier
(Merge)
7/10
It's long felt like Torres has been on the cusp of a superstardom that's so far managed to evade her. After she was dropped by 4AD in 2018 it seemed like the songwriter also known as Mackenzie Scott was in danger of losing it all – she described that period as the hardest of her life, during which she considered quitting music entirely. 
It was heartening, then, to see her sign to another esteemed indie, Merge, for 2020's Silver Tongue, a record which understatedly regained her the critical and commercial foothold she'd been forced into scrambling for. Now, Thirstier builds upon that foundation; ambitious and unabashed, it's the sound of an artist casting off any concern for others' expectations.
Though she's hardly been a wallflower on previous records, Thirstier is by some distance Scott's most brazen work yet. Opener 'Are You Sleepwalking?' lurches along with a satisfying Hole-like grunt, before sidestepping into a jittery, syncopated chorus; lead single 'Don't Go Puttin Wishes In My Head' is a glorious power-pop stomper that improves on every listen, achieving the near-impossible by both sounding like Springsteen and not being embarrassing dad-rock bollocks. 
It doesn't all entirely work – the title track is overly reliant on a guitar line that sounds like nothing so much as Take That's 'Patience', and 'Big Leap' is a little too earnest for its own good – but by the time we get to the propulsive final run-in of 'Kiss The Corners', 'Hand In The Air' and 'Keep The Devil Out', it's hard not to be moved by the record's spirit, and you're unlikely to hear a hookier record this year. A megastar move.
Free Protomartyr flexi disc with this month's magazine
Subscribers to Loud And Quiet now receive a limited edition flexi disc of a rare track with their copy of the magazine
This month's disc is from Detroit punk band Protomartyr