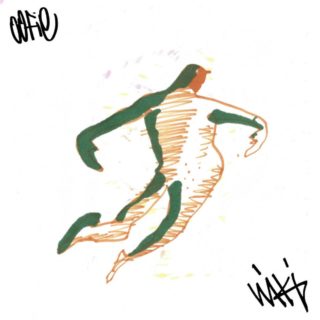 OOFIE is the surprise release from New York rapper Wiki. It dropped last Friday – his latest full-length solo album following 2017's spectacular No Mountains in Manhattan (a record I gave 10/10 in a review in this very publication, an assessment I stand by two and a half years later). It's a travesty that album, which I still listen to at least once a month, never blew up like it should have done. Indeed, Wiki appears world weary at the start of OOFIE, questioning his place in the music industry on 'Downfall', but nonetheless determined to show us he's still king ("Even when I'm down I got a crown on my head" he spits, as if we're the ones doubting him).
OOFIE of course retains the sound that made No Mountains so compelling – Wiki's distinctive voice, characterised by a kind of sexy nasal indifference with electric undertones, is what really carries the energy of the record. It holds together a somewhat chaotic soundscape, the result of an eclectic set of collaborations with producers including Micachu, Faze Miyake, Tony Seltzer, NAH and Wiki's old Ratking buddy Sporting Life.
If the collaborations contribute to OOFIE emerging as a somewhat less coherent project than No Mountains, Wiki's willingness to work with other people also delivers some of the best material on the record. Appearances from Lil Ugly Mane and Denzel Curry on 'Grim', and Your Old Droog on 'Way That I Am' are particular highlights. I also love the playful 'Pesto', where Wiki raps about green things with all the rapper's joy in wordplay and verbal dexterity fully on display. There are some odd additions too: I'm not sure if his determination to  "commemorate the ladies that made me" on 'Promises' works entirely, or adds a needlessly saccharine edge to an album that can sometimes veer into self-pity. Still, when the closing 'Freaks' reminds us of his dedication to the craft ("I did it for the freaks…"), you can't help agreeing that whatever Wiki's given to his art, it's been worth it.
New monthly memberships available
Here's a new thing: our membership scheme now has a pay-monthly option, plus a load of exciting new digital stuff for people who support what we do. It's actually excellent value, honest, and will help us continue to promote new independent artists and labels.
Sign up and you'll receive our physical magazines delivered to your door, our digital editions, exclusive podcasts and playlists and access to our EXTREMELY glamorous Members Lounge. You'll be the envy of all your friends.