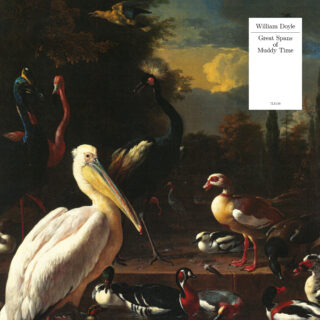 William Doyle
Great Spans of Muddy Time
10/10
For a tour of perfectionism in music, William Doyle's Your Wilderness Revisited could write the guidebook. Layers of sonic ecstasy exposed a painstaking attention to detail within the strange shadows which the record cast on suburban life; a rainstorm of synths, labyrinthine guitars and playful arpeggios like electronic artillery paid their uncanny debts to Doyle's native suburbia, composed like a giant game of KerPlunk. It was a psychic reset from his years writing as East India Youth, catapulted into a critically-lauded world beyond his knowing, with a few remarkable albums under his belt; here was a world he knew intimately.
The second album released under his own name, Great Spans of Muddy Time, is, in many ways, Wilderness Undone – a body of work as remarkable in its sound as in its composition, caught in between adventure and apprehensive relaxation. Dotingly named after a quote by Monty Don in an episode of Gardeners' World, the record dives into the sludgy endlessness of mental health's disorientations and lockdown's idiosyncrasies; channels occasionally drop out and crackles of feedback consume gorgeous homespun melodies, all the result of a hard drive failure where his original recordings were lost or saved only to cassette tape, liberated from his ability to tamper with them.
Even the accompanying artwork is a paean to the notion of the artist stepping back. 'The Floating Feather' by Dutch painter Melchior d'Hondecoeter is unofficially named for the detail seen on the water beyond the artist's own meticulous studies of birds.
From the rich arrangements and approachable art-pop of lead single 'And Everything Changed (But I Feel Alright)' to the crisp catchiness of Zapotec-era Beirut on 'Nothing At All' that eddies and swirls into malaise, or the harboring electronic fug of 'A Forgotten Film' and bass swells of 'Shadowtackling', Great Spans jettisons reference for dizzying experience. Foraging further into the wilderness, Doyle has uncovered a maximalist Lynchian heaven from the undergrowth.
New monthly memberships available
Here's a new thing: our membership scheme now has a pay-monthly option, plus a load of exciting new digital stuff for people who support what we do. It's actually excellent value, honest, and will help us continue to promote new independent artists and labels.
Sign up and you'll receive our physical magazines delivered to your door, our digital editions, exclusive podcasts and playlists and access to our EXTREMELY glamorous Members Lounge. You'll be the envy of all your friends.