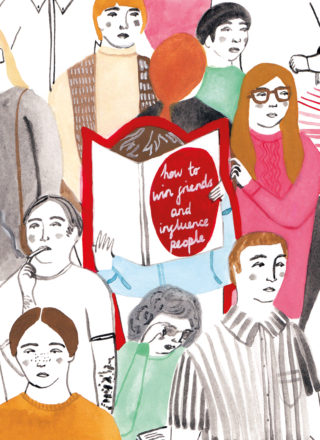 Anyone Can Play Guitar: Charles Manson
Reef Younis catalogues the curious music careers of mega 'celebrities'
Before Charles Manson decided that The Beatles' songs were a catalyst code for an apocalyptic race war, established the Manson Family cult and set about conspiring to murder seven people, he spent his time hanging out on the fringe of the LA music scene, writing and twanging out a few acoustic songs himself.
When he wasn't buried in the dark arts of Dale Carnegie's How To Win Friends and Influence People or unravelling a non-hidden meaning in 'Helter Skelter' for his own nefarious ends, a nascent songwriting ability saw 'Cease To Exist' emerge on The Beach Boys' album '20/20' and get released as a single under a different title of 'Never Learn Not To Love'.
Unfortunately, Manson's love for a six-shooter proved to be stronger than his talent interest in a six-string, and his plans for Frank Sinatra, Tom Jones, Elizabeth Taylor and Steve McQueen were less about duets and more about death.
But not even the distraction and impending incarceration of his infamous trial for murder conspiracy could prevent Manson from getting his own music out there with debut album 'Lie: The Love and Terror Cult', released by friend Phil Kaufman in 1970.
In isolation, Manson's nasal croon sits easily over the album's mix of blues-folk tracks and spaced-out acoustic guitar, but listen to it with one eye on the album cover – a parody of a Life magazine cover where a black and white mugshot of a psychotic-looking Manson glares out into the void – and seemingly harmless lyrics can be given a chilling, hidden meaning. Well, most of them.
Featuring slept-on lines like "I had a little monkey/sent him to the country/fed him ginger bread" (from 'Mechanical Man') and "Oh garbage dump/my garbage dump/why are you called my garbage dump?" (from the cryptically titled 'Garbage Dump'), 'Lie: The Lover and Terror Cult' turned out to be a prophetic snapshot of the marginally less sociopathic Kula Shaker.
Still, it hasn't stopped 'Lie: The Love and Terror Cult' from being released almost as many times as Manson's parole has been denied, nor did it prevent Guns N' Roses, Rob Zombie, Evan Dando, Anton Newcombe, Devendra Banhart and surname-sake Marilyn Manson from covering or sampling his musical work since.
With nine life sentences to pass, there's plenty of time for a few more, no matter how distasteful and sensationalist.