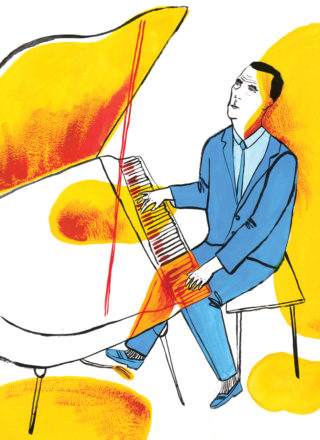 The unlikely collabs of Hugh Laurie, from Meatloaf to Billy Kennedy from Neighbours
The unexpected music career of that idiot Prince George
In America, he's best known as the narcissistic curmudgeon Dr. Gregory House. In the UK, he's recognisable as the foppish, upper class twit, Prince George from Blackadder. But somewhere in between, we get blue note Hugh: a jazz-playing, blues-loving singer and multi-instrumentalist.
From playing piano as a special guest on Meat Loaf's 2010 album 'Hang Cool Teddy Bear' to playing keyboard and singing in charity group Band From TV (more on that later), Hugh Laurie's never been shy about showcasing his musical talents on stage or screen – when you're a pianist, guitarist, drummer, harmonicist and saxophonist, you're entitled to prove that your aptitude for instruments is up there with your acting chops.
After musical dabbles on A Bit of Fry & Laurie (his comedy double-act with Stephen Fry) and House (the doc was in session on a Gibson Flying V, Les Paul and Hammond organ at various points), Warner Bros. Records came calling.
In 2010, Laurie signed a contract with the label and released the first of his two albums, 'Let Them Talk', a year later, roping in Tom Jones, Irma Thomas and Dr. John as guests. Picking up solid if unspectacular reviews, the album's even take on rhythm, soul and blues saw it become the biggest-selling UK blues album of 2011 (I'm not making this up), shift 192,000 copies, peak at number 2 in the UK album chart and top the US Blues, Argentinian and Austrian album charts, respectively.
Two years later, 'Didn't It Rain' arrived, but this time Laurie mixed it up. Away from its blues foundation, it ventured into jazz, R&B and tango with similarly mixed results in the style of its predecessor. Slightly less successful on the chart front (it only reached number 3 in traditional Laurie strongholds of France and the UK), the album at least had critics complimenting his taste in music and his ability to recreate it to a standard that can be described as 'pretty decent'.
But while he was shifting units for a major label, and closing the Cheltenham Jazz Festival with his quintet, Laurie was also giving something back with the aforementioned Band From TV. Comprised of various musician actors from American TV, you can find Laurie playing high profile charity events alongside the likes of James Denton aka Mike Delfino from Desperate Housewives, Teri Hatcher aka Lois Lane from The New Adventures of Superman, and, of course, Jesse Spencer aka Billy Kennedy from Neighbours. Oh starry night.
We're not being funny...
… but can you become a member please?
It's actually excellent value, and will help us continue to promote new independent artists and labels.
Sign up and you'll receive our physical magazines delivered to your door, our digital editions, exclusive podcasts and playlists and an actual bookmark, as if printing a magazine in 2021 wasn't old fashioned enough.
6-month and full year memberships are available now. Fancy it?