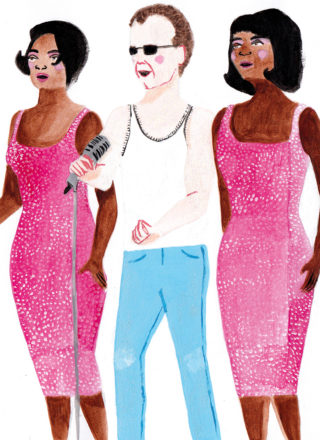 Anyone Can Play Guitar: The wonderful music career of Bruce Willis
For anyone exposed to early '90s action films, Bruce Willis will always be the sardonic perpetually bloodied cop, John McClane. Despite a few attempts to soften him up – Disney's The Kid & Nickleodeon's Rugrats Go Wild not withstanding – it's difficult to remember a time when Willis wasn't antagonising psychopaths, chasing someone, running away from someone, or generally shooting everybody in sight. In the mid-eighties, however, things were a little different.
Imagine a snake-hipped, sandwich-boarded Willis bumping and grinding his way through Harlem in Die Hard: With a Vengeance; blasting Motown classics on the Freedom shuttle as it embarks on a humanity-saving mission in Armageddon; or whispering the lyrics to 'Under the Boardwalk' to a distressed Haley Joel Osment in The Sixth Sense. In 1987 you didn't have to, because on the advent of his A-List fame, Willis released his debut album, 'The Return of Bruno', via the legendary Motown label, complete with fake HBO documentary. Working with backing musicians including Booker T. Jones, The Temptations, and The Pointer Sisters, Willis' step into a sax-addled world of blues, soul and RnB reworks also came complete with a blues singing alter ego called Bruno Randolini. It almost reads like a gratuitously ridiculous script – an Alan Partridge "Monkey tennis".
Bruce as Bruno didn't endure quite the same way as Bruce as John did but 'The Return of Bruno' somehow managed to claim the number 14 spot on the US Billboard Album chart while 'Under the Boardwalk', although struggling in the US, reached number two in the UK single charts, becoming one of the country's best selling singles of the year.
He didn't stop there, either. Follow-up 'If It Don't Kill You, It Just Makes You Stronger' arrived in 1989 in straighter circumstances – Bruno Randolini replaced with some upstart named Bruce Willis – but by this point the world was warming to the silver screen sight of beaten and almost-broken Willis, not this face-contorting crooner, and Willis' short-lived music career looked to be going the way of the brothers Gruber.
Undeterred, Willis found a way back in 1996, providing the voice and throaty blues theme tune for cartoon series Bruno the Kid, adding it to a karaoke-pleasing back catalogue of 'Devil Woman', 'Secret Agent Man', and 'Respect Yourself' that would help shape the release of 1999's much slept on 'Classic Bruce Willis'. Yeah… CLASSIC Bruce.
Please support Loud And Quiet if you can
If you're a fan of what we do, please consider subscribing to L&Q to help fund our support of new musicians and independent labels
You can make a big difference for a few pounds per month, and in return we'll send you our magazines, exclusive flexi discs, and other subscriber bonus bits and pieces
Try for a month and cancel anytime