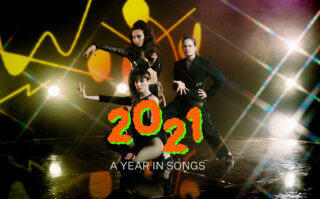 Be very careful out there: the story of 2021 in songs
It's been another roaring success
Another year down. 2021, the messy afters to 2020's horrendous anti-party, is finally over and done with. The year started as it meant to go on – with a mix of vague optimism and far more tangible dread. We had vaccines on the way after all, but they don't fix things overnight, and it's not as if everything was going swimmingly before the onset of the pandemic forced us to put all pre-existing problems on the backburner for 18 months. Still, here we are, all jabbed up and suffering from the mega-cold that's punishing us for having the temerity to go to shows and pubs again. The world keeps turning, and, happily, lots of very good music keeps being released to whoever's left to hear it. 
January
Following the dampest possible squib of a New Year's Eve – we were still locked down here in the UK, Habsburg Grinch Boris Johnson having fucked up Christmas for everyone – 2021 held off until January 6 to make its dramatic entrance, in as simultaneously stupid and dangerous a manner as possible. Donald Trump had been whining on about the 'stolen' 2020 election for ages, which just seemed a bit pathetic until a number of his supporters decided to invade the Capitol in Washington D.C., storming a session of Congress and going after leftist, liberal or otherwise "disloyal" political figures in the process. It was a rag-tag, heterogeneous crowd, out-and-out white supremacists mixing with somewhat more harmless (if still pretty unpleasant) brain-fried Facebook aunties swept along for the ride, and too easy to either dismiss as either a laughable fringe or hysterically declare the insurrectionary vanguard of an authoritarian coup d'etat. Neither of those perspectives was quite right – but not quite wrong either. 
Shortly after the Capitol riot, Olivia Rodrigo released one of the year's biggest singles, 'drivers license', an absolutely okay bit of Lorde-ish lowercase pop that I'm amazed I can remember ten months on. What a soundtrack for the day's events and their fallout – like Pinochet blasting out Barbra Streisand as the tanks roll into Santiago. 
February
On February 5, Black Country, New Road released their superb debut album, For The First Time, any track from which could be included in this glorified listicle, but let's go for 'Science Fair'. As music nerds the world over lost their shit about it (ourselves very much included), the doom from around the globe kept coming – lethal storms swept the US, a military junta seized power in Myanmar, a new strain of bird flu began spreading amongst people in Russia. None of which is much of a laugh is it? Moving on.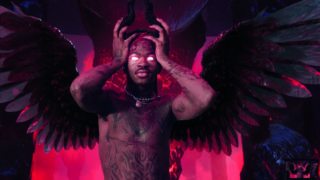 March
In late March, the world was introduced to the Ever Given, destroyer of supply chains, menace to international capital and motherlode of memes. One of the largest container ships in the world, it got wedged in the Suez Canal, blocking one of the most important shipping routes for international trade and being very relatable in the process. It was trying its best, ok?
While all this was going on, Lil Nas X annoyed all the correct people with 'Montero (Call Me By Your Name)', a giant successor to his breakout hit 'Old Town Road' complete with explicitly erotic lyrics and a deliriously extra, blasphemous video to further prove to the American fundamentalist right that the End Times are indeed upon us. Really though, it's just a great pop tune, a quality it shares with other March highlights like Japanese Breakfast's 'Be Sweet' and – in a far weirder, gnarlier way – Black Midi's rambunctious return single 'John L' (both of which also compete with 'Montero' for the year's best music video). 
April
Speaking of big daft lumps getting stuck in embarrassing situations and fucking up entire industries in the process, in April a consortium of grassroots football fans like Roman Abramovich and the Emirate of Abu Dhabi decided to give something back to the game they love by hatching a plan to completely ruin it. The European Super League – in which ailing giants like Barcelona, AC Milan and Manchester United were to rub shoulders with oil-rich superpowers like Manchester City and Paris St Germain before taking turns at battering Spurs – was an appalling idea from the start, and deserved all the condemnation it got. As the dominance of the infinitely-resourced likes of City and PSG continues to be consolidated and venerable clubs like Newcastle United are bought out by yet more absolute bastards, it's hard to convince oneself that football truly dodged the bullet that the Super League represented – but at least we all got to laugh at these mega-corporations shitting the bed in public. 
Away from all that nonsense, there have been examples of the opposite phenomenon – figures with bags of talent, who'd been slept on for too long, taking a step up to the next level with grace and panache rather than hubris and incompetence. Take Self Esteem: Rebecca Taylor's Wetherspoons Madonna routine already had loads going for it – smart, hooky, hilarious – but the release of 'I Do This All The Time' on April 28 felt like a real moment. Half spoken-word introspection, half air-punching catharsis, it's absolutely enormous, heralding the long-awaited coming of Taylor's imperial phase as a proper pop star. Likewise, April also saw the release of Little Simz's comeback tune 'Introvert' – an ambitious blend of Studio 54 groove, Morricone string arrangements and up-to-the-minute MCing that deserves to send its creator similarly stratospheric.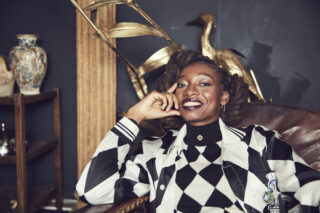 May
May was an intense month, full of entirely necessary but pretty full-on social unrest: there was distressing news from Palestine, sparking huge protests around the world; rumblings of aggro with France over fishing rights; continual anti-police actions following the murder of Sarah Everard earlier in the year and the subsequent abuse of demonstrators by the Met, and more. It's a good job that, musically, it was full of relatively calming, transportive stuff to shelter beneath when you had time for a breather: we convalesced with the help of Erika De Casier's airy R&B ('No Butterflies, No Nothing') McKinley Dixon's verbose experimental rap ('Chain Sooo Heavy') and Mdou Moctar's fluid, meandering guitar work ('Afrique Victime'). 
June
We're not putting 'Three Lions' as a defining track of the year, because fuck that. But obviously it's basically all we heard for much of June and (at a more hysterical pitch) a fair bit of July – only rivalled in inescapability by Wet Leg's 'Chaise Longue', which can go on the list instead – as here in London, everyone was getting very excited about England's remarkable progress through the Euro 2020 finals. 
To be fair, it was nice to see a demonstrably lovely bunch of lads play so historically well – even if it was overshadowed by the racism and xenophobia that's unfortunately priced into nationalist football fandom in general, and supporting England in particular. Either way, thanks and solidarity to Rashford, Saka and co – we don't deserve you.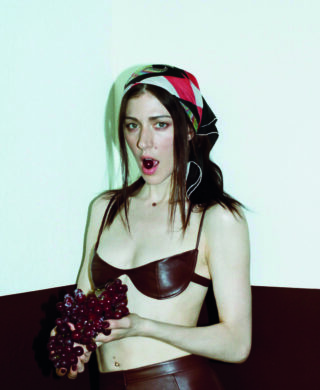 July
On July 20, nerdy bookseller turned Dr Evil impersonator Jeff Bezos rounded off another hard day of choosing not to end world poverty by flouncing off to space in a rocket that looked even more like a penis than most rockets. Fellow parasite Richard Branson had made a similar journey a few days earlier; apparently he didn't get quite as far out, but dignifying such a grotesque pissing contest with specifics seems beside the point. 
Back on Earth, Caroline Polachek achieved something more worthwhile than any billionaire ever by releasing 'Bunny Is A Rider' on July 14, following up the best pop album of 2019 (Pang) with the best pop song of 2021. Coinciding with the UK's final removal of Covid restrictions, it was a fitting anthem for a simultaneously liberating, anxious and anticlimactic summer – danceable, sleek, and just a little uncertain behind the melodic fireworks.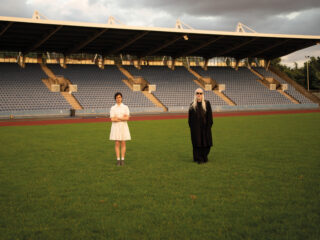 August
In our little world, August was soundtracked by the brilliant audiobooks, an art-pop two-piece with tunes as big as their age gap, fused with seething production and the most disconcertingly funny lyrics anyone is writing at the moment. 'Lalala It's The Good Life' came out on the 5th, and might just be their best song yet. Kanye West also continued to tease his new record DONDA throughout the month with a series of bizarre and problematic stunts, which made its eventual release on the 29th feel even more underwhelming. There's a good album in there somewhere – it's just a shame that, at 108 minutes long, it's obscured by enough material to make up another two or three really mediocre ones. 
A lot of significant stuff happened in August, all of which is far too important to trivialise in this bit of tittle-tattle, but it doesn't really feel right to pass by this month without mentioning the ongoing disaster in Afghanistan. Decades of domestic tumult and imperialism imposed from abroad came to a head this summer; the shock of the Taliban's reassumption of power will have many consequences, but most pressing is the appalling food crisis that the dramatic shift in political authority has enormously exacerbated. Nearly 23 million people face starvation – if you can, please consider donating to the World Food Programme at www.wfp.org. 
September
This month kicked off with Swedish pop royalty ABBA making their grand return, announcing a series of "concert experience" events and releasing two new tunes, 'I Still Have Faith in You' and 'Don't Shut Me Down'. They're both rubbish obviously, but that's not really the point – it's the concert experience that's more interesting. Taking place in east London in 2022 inside a purpose-built, 3000-seat arena, digital versions of the band (not holograms, they're keen to point out) will play the hits night after night, like Jean Baudrillard's naffest possible nightmare. It's all very silly, but your nan does deserve a night out after two years of being stuck inside, so fair play.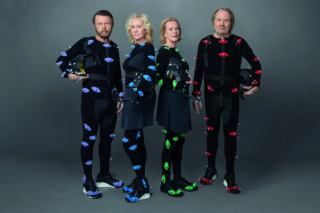 October
As the post-Covid, post-Brexit supply chain crisis really began to bite and petrol stations across the UK descended into a morass of 4×4 drivers in gilets screaming at each other, Adele realised that her target audience needed a calming pat on the head. That came in the form of 'Easy On Me', which in a controversial left turn for the singer is a stirring, piano-led power ballad with a rousing chorus and semi-confessional lyrics. Maybe it's easy to snipe, but she's having the last laugh isn't she? 
November
It's still November as I write, but it already feels like a lot has happened this month. COP26 is ongoing in Glasgow, where the leaders we deserve are discussing the climate crisis, urged to act more radically by environmental groups from across the world. More importantly, the leaders we need – Charli xcx, Caroline Polachek and Christine and the Queens – have teamed up for new single 'New Shapes', which is… pretty good? I'll be honest, I think it's less than the sum of its parts – but it's satisfyingly OTT and self-aware, so it should at least tide us over until Charli's new album drops next year. 
December
Reading the tea leaves and taking into account the grim portent that we're apparently about to see the return of the Crazy Frog, I reckon 2021 can throw at least two more crises at us before bowing out and letting 2022 pick up the slack (I was right). So look forward to that. For now, thanks for reading and supporting L&Q for the past year – we really, sincerely appreciate it – and look after yourselves. Until next time.
Free Protomartyr flexi disc with this month's magazine
Subscribers to Loud And Quiet now receive a limited edition flexi disc of a rare track with their copy of the magazine
This month's disc is from Detroit punk band Protomartyr