Black Midi are on the cover of Loud And Quiet 134 – order a copy here
The story of a reluctant hype band
Groups like Black Midi aren't supposed to become buzz bands. They've only released one limited single and given hardly any interviews. They don't really go in for much of a web presence either. And, most importantly, the music they make – something like a jazz approach to math rock where the vocals are indecipherable – is pretty much un-marketable. But none of that stopped a record label scrum for them (which Rough Trade eventually won) and permanently full live shows, of which there have been something like a million. The London band are on the cover of this month's Loud And Quiet, in stores from Saturday 18 May.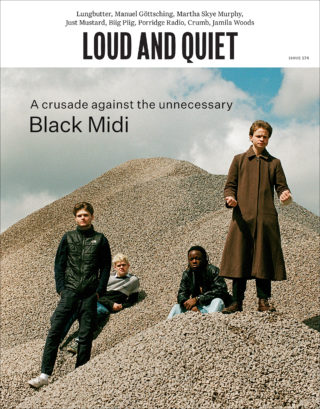 It's mostly new bands that join them this month, too. They are:
Lungbutter: a trio from Canada who are too heavy for grunge and too melodic for metal – masters of spoken word vocals over a brilliant racket.
Porridge Radio: the Brighton DIY band who have just released their two best songs yet.
Just Mustard: an Irish group who are making music inspired by drone loops and the score to The Favourite.
Crumb: a New York band with a jazzy thing going on that we've listened to a hell of a lot in our office.
Martha Skye Murphy: not a band, but a band leader and previous Nick Cave backing singer who's now releasing via Slow Dance when she's not eating cakes with our writer Tristan Gatward.
Biig Piig also had us over to her house for our My Place feature, and Megan Wallace spoke with Jamila Woods about her new album – an exploration of Black Excellence and identity. 
Plus, Manuel Göttsching recalls how he made a proto-techno masterpiece by accident in 1981, and I spoke with Carly Rae Jepsen about what she remembers about being 16.
Maybe you know some of this stuff already, but it's all been lovingly put into issue 134.
Order a copy here. Or subscribe from £3 per month and it'll be the first issue we get out to you this Saturday.
Support Loud And Quiet from £3 per month and we'll post you our next 9 magazines
As all of us are constantly reminded, it's getting harder for independent publishers to stay in business, which applies to Loud And Quiet more now than ever, 14 years after we first started printing a magazine that we've always given away for free.
Having thought about the best way to support our running costs (the printing and distribution fees, the podcast and production costs etc.) we'd like to ask our readers who really enjoy what we do to subscribe to our next 9 issues over the next 12 months. The cheapest we can afford to do this for works out at £3 per month for UK subscribers, charged yearly.
If that seems like a bit of a punt, you can pay-as-you-go for £4 per month and cancel any time you like. European and world plans are available too, at the lowest rate we can afford.
It's not just a donation – you'll receive a physical copy of our magazine through your door and some extra perks detailed on our subscribe page. Digital subscriptions are available worldwide for £15 per year. We hope you consider this a good deal and the best way to keep Loud And Quiet in your life without its content, independence or existence suffering.