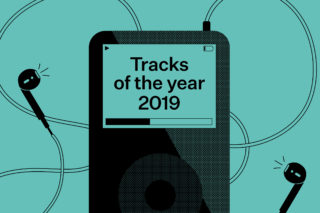 The best tracks of 2019 in one totally life-changing playlist
Grab your iPod, gang!
Of the 14 million songs added to Spotify this year these were the greatest.
Or, more accurately, of the music that we discovered in 2019 these were our favourite tracks.
Instead of putting them together here in a painfully slow page of endless embeds we've put together a playlist on Spotify and Apple Music. They're not in any hierarchical order.
Give it a listen. If you like it, some of the music appeared on our No Shit playlist throughout 2019 – that's the place where we add the new songs we're into every week.
Finally, for those who don't use those streaming services or just want a gander, here's a full list of the artists and their songs. Enjoy listening.
Snowy feat. Jason Williamson – EFFED
Sinead O'Brien – Taking On Time
Squid – Houseplants
Dry Cleaning – Magic Of Meghan
Metronomy – Lately
Lynks Afrikka – Str8 Acting
Black Country, New Road – Sunglasses
Bambara – Serafina
The Comet Is Coming – Summon The Fire
Holly Herndon – Eternal
Just Mustard – Frank
Otha – Tired And Sick
Biig Piig – Sunny
Richard Dawson – Two Halves
Ezra Collective – Quest For Coin
Sharon Van Etten – Seventeen
Rosie Lowe – Birdsong
Orville Peck – Turn To Hate
Sleater-Kinney – Reach Out
Hannah Cohen – This Is Your Life
Patience – The Girls Are Chewing Gum
Iggy Pop – James Bond
Fontaines D.C. – Big
Jimothy – Talkative
Nilufer Yanya – Tears
DITZ – Gayboy
Sistertalk – Vitriol
The Claque – Hush
Ms Banks – Remember The Name
Injury Reserve – Jailbreak The Tesla
Normani – Motivation
Billie Eilish – Bad Guy
Black Midi – 953
Jarv Is – Must I Evolve?
Fat White Family – Feet
Mark Ronson feat. Yebba – Don't Leave Me Lonely
Scalping – Chamber
Dave – Location
Show Me The Body – Madonna Rocket
Self Esteem – The Best
Sleaford Mods – Kebab Spider
Suitman Jungle – Liquid Lunch
Kano feat. D Double E & Ghetts – Class of Deja
The Chats – Identity Theft
Stormzy – Vossi Bop
Lizzo – Juice
Amyl & The Sniffers – Gacked on Anger
Vampire Weekend – Harmony Hall
The Murder Capital – More Is Less
Clairo – Bags
Steve Lacy – Playground
Rosalia – Aute Cuture
Foals – Black Bull
Bat For Lashes – Kids In The Dark
Tyler, the Creator – Earfquake
Anna Meredith – Paramour
Thom Yorke – Not The News
Danny Brown – Dirty Laundry
Sudan Archives – Confessions
Sampa The Great – Heaven
JOHN – High Digger
Los Bitchos – Pista (Great Start)
Glows – Afterthought
Jonathan Something – Heartbreaker/Back to the Country
Sorry – Right Around The Clock
Lazarus Kane – Narcissus
Girl Ray – Show Me More
Deliluh – Lickspittle (a Nut in the Paste)
Georgia – Never Let You Go
Jerskin Fendrix – Black Hair
FKA twigs – Sad Day
Dai Burger – Salty
Moses Boyd – Stranger Than Friction
Sassy 009 – Maybe In The Summer
Kate Davis – Daisy
Cartel Madras – Goonda Gold
Spencer. – Automatic
Scrounge – Badoom
Princess Nokia – Sugar Honey Iced Tea
clipping – La Mala Ordina
Aldous Harding – Pilot
Leafcutter John – Doing The Beeston Bump
JPEGMAFIA – Jesus Forgive Me, I Am A Thot
Floating Points – Last Bloom
Tropical Fuck Storm – Who's My Eugene?
Kim Gordon – Murdered Out
Housewives – SmttnKttns
Weyes Blood – Andromeda
Angel Olsen – All Mirrors
Freddie Gibbs & Mablib – Crime Pays
Big Thief – U.F.O.F
Lungbutter – Honey
These New Puritans – We Are The Trees On Fire
Cate le Bon – Daylight Matters
Purple Mountains – Snow Is Falling In Manhattan
KEYAH/BLU – Choker
Rico Nasty – Time Flies
GLOO – Lux 2
Kate Tempest – Hold Your Own
And also, check out our list of the top 40 albums from 2019.
Support Loud and Quiet: Subscribe for £3 a month, and we'll send you our next nine issues of the magazine. Or gift someone else a whole year of magazines.
FURTHER READING: