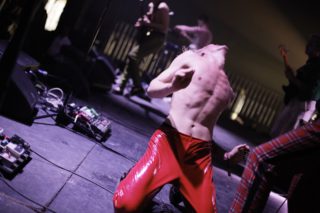 HMLTD were the only band at End of the Road dressed like sailors in latex rubber
It wasn't for everyone - but it was brilliant
HMLTD look ridiculous. They also look sublime. A band this cocksure, confident, theatrical, fabulous; it's been a while.
Singer Henry Spychalski, is wearing pvc trousers, a t-shirt emblazoned with a blood-red heart, one black sleeve and a sailor's hat – most of which he peels off, by degrees, as the set progresses. He's got a huge, bombastic voice, not unlike Brett Anderson. The rest of the band look like five different Bowies, faces white-painted, serious-faced and demonstrative. There's lime green trousers and blue lipstick.
In fact there's so much going on here, it's hard to know where to look. There's a lot going on. The preening and posturing of '80s hair rock, the high camp of Marc Almond, the deadly-serious swagger of any number of art-school upstarts. And the music? It's all over the place. For some, it's thrillingly unpredictable, other's unpalatably erratic (it drives some audience members away, but also stirs the first feral mosh pit of the day, here in the mid-afternoon).
'To The Door' sounds like the soundtrack to a Western movie, sped up tenfold; a ridiculous high-speed gallop led by a bunch of beautiful boys. 'Satan, Luella & I' morphs into a mental disco party, the bouncing rhythm throbbing wildly under the roof of the Big Top. It ends with a tsunami of synths crashing over an incredible blast of sound.
Their songs switch tempo and style multiple times, often within the space of four minutes. It's confusing, but fascinating. Are they artists making a tremendous statement? Or are they a bunch of chancers in synchronised fancy dress? The truth is, they're both.
HMLTD at End of the Road festival, Loud And Quiet Big Top, Saturday 2 September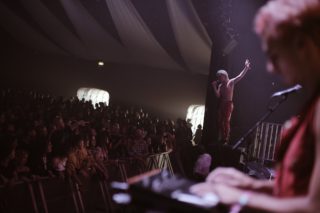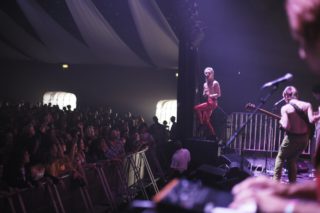 We're not being funny...
… but can you become a member please?
It's actually excellent value, and will help us continue to promote new independent artists and labels.
Sign up and you'll receive our physical magazines delivered to your door, our digital editions, exclusive podcasts and playlists and an actual bookmark, as if printing a magazine in 2021 wasn't old fashioned enough.
6-month and full year memberships are available now. Fancy it?