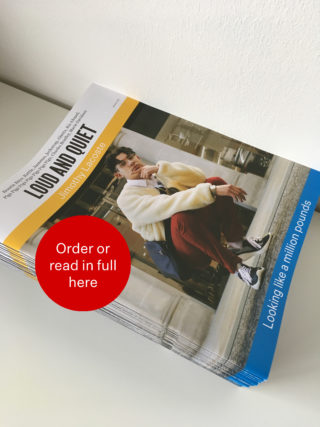 Jimothy Lacoste is on the cover of Loud And Quiet 129 – out this weekend
Looking like a million pounds
Update: Read the digital version here. Or order a physical copy for home delivery.
For this month's issue of the magazine Gemma Samways went shopping with Jimothy Lacoste down Bond Street. If you think you've already got an idea about Jimothy's cash situation, like some people do, him ducking into Gucci and Burberry will hardly change your mind. But it turns out that Jimothy isn't a rich kid – only his friends are. And he doesn't like it when people only like his music because they think it's a joke, either. Read the full (fun) story behind Jimothy's fashion and life choices in Loud And Quiet 129, in stores from Saturday.
Also for this issue Dominic Haley spoke with the remaining Beastie Boys about 3 relationships that made them (one is with Madonna), Daniel Dylan Wray remembers Charles Bradley a year after his death, and reluctant grime pioneer Ghetts talks about turning his life around with Mike Vinti.
The rest is all new stuff – Philly rapper Sammus, London duo Jockstrap, Nottingham experimental drum duo Rattle, Canadian techno musician Marie Davidson and Newcastle metal band Pigs, Pigs, Pigs, Pigs, Pigs, Pigs, Pigs.
Riz Ahmed also remembers what it was to be a British Asian teenager in 1998.
We'll deliver it straight to your door if you choose to order a copy or subscribe here.
The digital version will be up from Saturday too, when the mag will be going into stores across the whole country.
However you choose to read it, we appreciate your time and support.