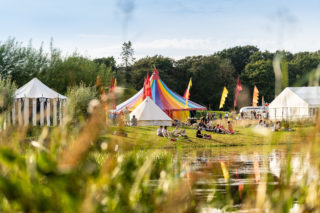 Jupiter Rising – Scotland's answer to Supernormal proves vital
Art and pop collide in incongruous surroundings
I: A Happening
Those who visit the Jupiter Rising festival — only in its second year — would do better to come early. Held in Jupiter Artland sculpture park near the tiny village of Wilkieston just west of Edinburgh, the 1000-acre site hosts enormous structures. Never mind the breathtaking scenic surroundings, clear in the unseasonably warm Scottish late afternoon; there's also Anthony Gormley's giant mesh humanoid Firmament, Laura Ford's terrifying Weeping Girls, Cornelia Parker's towering Landscape with Gun and Tree. Then there's environmental doorman which greets every visitor: landscape artist Charles Jencks' conical mounds and pools — in which a large inflatable planet Jupiter floats. Jupiter Rising is exaggerated in the press materials as "a Happening", but the intention is telling — Happenings can be impromptu artistic intrusions on the everyday, and the pastoralism of the landscape is nothing if not disturbed by these alien structures, and indeed, it isn't exactly the place you'd expect to find a music festival either.
Seconds into the inaugural acts' sets, the incongruity is easily overlooked. Glasgow queer hardcore foursome OVERWHELMED and London industrial improvisor Alpha Maid heat up the festival's already scorching, minuscule main music stage — the rainbow-striped Roundtop — meanwhile Benjamin Owen and Jer Reid gear up the poetry and arts contingent in the Departure Lounge area. But it's clear that Jupiter Rising isn't interested in compartmentalising a line up into 'pop music' and 'art' by cordoning them off to separate areas. It's the festival's fluidity that puts Canadian almost-acapella project Jenny Moore's Mystic Business on the Roundtop alongside a group with as much prestige as Glaswegian indie pop heroes The Vaselines. Nowhere is the festival's art-meets-pop philosophy better utilised than in sound and visual artist Mary Hurrell's performance, which finds the performer easing into an amniotic sphere of noise (the word 'atmospheric' is bandied about very freely among guests over the weekend) and, just as the digitised dirges drift into the air and out of earshot, stoically bathing in the aforementioned Charles Jencks' pools.
Curiously, it's a billing ethos that works exceedingly well given the festival's scant runtime of, really, about a day and a half. What's more, the festival's minute scale comparable to its southern analogue, Oxfordshire's Supernormal (two small stages, a performance area next to the only bar, a dance area in the woods), renders ping-ponging from one stage to the next almost as easy as an about-face.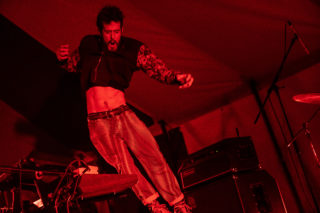 II: Home To You
Glasgow's peerless, largely queer- and POC-run DIY sphere is justly represented across lineups and activities. Rattle Library, a radical library project working out of GAS (Glasgow Autonomous Space) curate workshops and events, as does SQIFF (Scottish Queer International Film Festival). Event organiser/DJ Sarra Wild, who delivers a masterful set to close Jupiter Rising on the OH141 stage, leads a vital conversation with promoter Aisha Mirza about self care and safe spaces in club culture. Queer-core punks Current Affairs sweat through a baller set despite the interminable heat, which only escalates over the course of the weekend. But it's Manchester's ILL, with their mutinous state-of-the-nation clatter sitting somewhere between Slade, Cardiacs and Sonic Youth, that stake the claim for rooting the UK's current noise rock renaissance firmly in the North of England.
One of the main draws of Jupiter Rising's more experimental edge sees musicians redefine what an instrument is capable of doing altogether. To that effect, Londoner Ben Vince's performance of whirling, looping sax is transformed into a tool for Phillip Glass-like minimalism and, more irreverently, semi-improvised techno. But it's the continued adventure of Toronto punk staple-turned luxuriant Parisian chanteur Eric Chenaux that proves most enticing. He recasts Derek Bailey-style free jazz dissonance as a covert method of romance, brushing but never clashing against his silky, Sade whisper. Never has a guitar been made to sound like your tipsy long-term lover, stumbling over his undone trousers in a laughably charming attempt to seduce, when we both know he's too sleepy for the deed.
Nevertheless, the festival's home stretch sees regality reign as Cate Le Bon's commanding presence belies the fact she and her band have had to squeeze onto the Roundtop stage. Her latest album Reward is a well-oiled pop machine of many moving parts, and it takes seeing the marimbas and the horns for yourself for the fact to really hit home. Then, The Comet Is Coming pare down on the moving parts — a horn, a synth, some drums — to leave an even bolder impression. They're a funny note for the festival to end on, being one of the only jazz groups on the bill (the change in overhead speakers from indie rock to Eric Dolphy is duly noted), but they easily draw the largest and most raucous audience of the weekend with their intensity.
III: One More Night
Scantily avoiding an identity crisis largely thanks to tight programming and a unique location, anyone would think Jupiter Rising succeeded in its aspiration to enmesh art with popular music. Where else would you likely find the stateliness of Cate Le Bon sharing a wee stage with a group as boisterous as Edinburgh Leisure, who fashion a bloody racket from milk jugs and mic-ed up masking tape? The festival's first outing in 2018 took place over a single day; based on the triumphs of this year's, another night in 2020 wouldn't be too much to ask — that is to say, unless it risks losing sight of its greatest achievement this weekend. Jupiter Rising must continue to champion the art and music at the fringes, the kind you'll find in DIY spaces run by queer, anti-capitalist and POC groups — from Glasgow and beyond — who've long fought to see themselves represented in their industry. Who knows — they might even be the ones responsible for rebuilding it altogether.
Photography: Festival / Aly Wight
Please support Loud And Quiet if you can
If you're a fan of what we do, please consider subscribing to L&Q to help fund our support of new musicians and independent labels
You can make a big difference for a few pounds per month, and in return we'll send you our magazines, exclusive flexi discs, and other subscriber bonus bits and pieces
Try for a month and cancel anytime