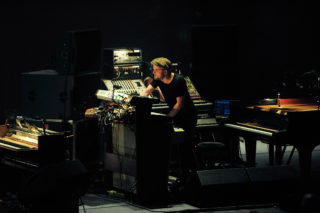 Nils Frahm's latest show features bog brushes and an organ so big it has its own dressing room
The first of four nights of ambient bliss in London
Ten minutes into a four-night sold-out Barbican residency, Nils Frahm picks up the microphone lying on a mat at the front of the stage: "Hopefully everything works out tonight. Sometimes things go wrong, sometimes things go better. But this… I had a very good start to the show, I think."
The Berlin-based composer has long been a pioneer in the realm of soaring contemporary classical glitchy experimental electronica. His seventh studio album, 'All Melody', was released last month on Erased Tapes to critical acclaim – crammed with synchronous investigations into abstract melody and rhythm. It's his most ambitious and inquisitive collection to date; 'The Whole Universe Wants To Be Touched' is a brief ethereal welcome to the evening with choral samples, before the weaving 'Sunson' demands complete attention.
The stage is set in two halves; to the left, a felt-prepared piano is the centrepiece of a homely-looking picture, where to the right, a grand piano stretches out beside a god-knows-what line-up of harmoniums and analogue synthesisers. It's chaos at best, a key-enthusiast's fantasy, but the ease and elegance with which which Frahm moves between instruments is mesmeric. I suppose it's to be expected of a man whose latest release both sonically and thematically orbited a single, self-created room, transformed from broadcast centre to bespoke studio in Berlin's iconic Funkhaus. Even now on a vastly different stage, Frahm cares as much about the sound as the actual music.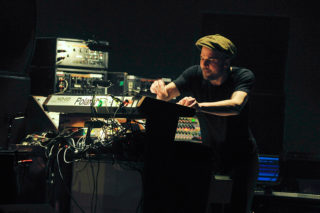 Even his self-built pipe organ has made the trip to England. It's too vast to join the concoction in front of us, but Frahm operates it remotely as it sits backstage in its very own dressing room, with its very own tour bus to enjoy afterwards. He introduces it to us by playing a chirpy little interlude that sounds like a pan-pipe remix of a Nokia ringtone. He acknowledges this, of course… "It's a little more uplifting than some of my other instruments. I think you need that in depressing countries like England and Germany."
The versatility of the set continues, shifting from Balearic beat in 'All Melody' to the balletic 'My Friend the Forest'. A lavish light display fades to a single spotlight for a haunting rendition of 'Forever Changeless', Frahm's shadow twisting around him while – to use Frank O'Hara's line – everyone, and I, stop breathing. Frahm is like a collage artist, where the room and the audience become as much a part of his deftly compositions as the chords that play on loop for minutes at a time. What are minor irritations, usually – a cough, a bottle dropping, a rustle of a crisp packet, even flash photography – are all captivated as curious additions to the most delicate and ambient of tracks.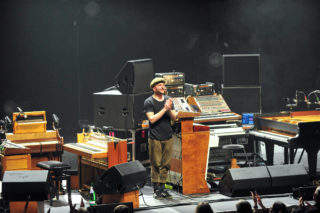 Frahm is the only one here conscious that this all might go on too long: "I had this terrible thought about how many people are in one room," he says, in the final humorous interlude he makes. There are 1700 people here, so roughly 1.7 seconds is one hour of your time combined. Just think about that with each unnecessary repetition of my loop, and maybe use the next song to at least plan something nice for when you leave. I don't want to feel like I'm holding everybody up."
A brief encore includes percussive toilet brushes drumming against the table-top of the grand piano, before ending on 'More', the most unsullied piano work of the evening. As the pace gets quicker, he stomps his foot with such metronomic strength that it reverberates throughout the auditorium, as he looks mentally lost within himself. The standing ovation that followed could have lasted hours.
Photography by Tom Howard
Nils Frahm @ London, Barbican on Thursday 21 February 2018
We're not being funny...
… but can you become a member please?
It's actually excellent value, and will help us continue to promote new independent artists and labels.
Sign up and you'll receive our physical magazines delivered to your door, our digital editions, exclusive podcasts and playlists and an actual bookmark, as if printing a magazine in 2021 wasn't old fashioned enough.
6-month and full year memberships are available now. Fancy it?