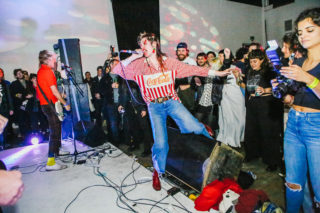 Test Pressing festival 2019 – a DIY city festival done properly
Adventures in abstract sounds
City festivals: we have enough of them, right? Well, not really. Not city festivals that are done properly. East London's Test Pressing Festival sets out a clear mission for itself and fulfils it with panache. If only more events were able to do so with such apparent ease.
Spread around a clutch of venues in Hackney Wick, ranging from well-equipped club spaces to a characterfully ramshackle former public bath, Test Pressing is a straightforward beast, focusing on little else but a carefully-curated line-up of techno, noise-rock, post-punk and experimental electronica. It's a simple formula that works perfectly.
We begin the day in Studio 92 for sets from Woom and Sylvia Kastel. The former, a remarkably stripped-back vocal group, weave their harmonies together with stunning intricacy and precision, qualities that are sadly lacking from the latter's disappointingly static set. On record, Kastel creates soundscapes in which one may get entirely lost; today, they simply get lost themselves, blighted by a combination of dodgy sound and a rather conservative approach to live electronic performance.
Afterward, to Grow to catch CC Honeymoon. Asher Preston's synth-driven goth-pop project is realised live with relatively few elements – a backing track of sparse 808s and kitsch-rich midi strings accompany his single live vocal – yet his physical performance offers no such restraint. This is emphatically a good thing: his absurd, sensual presence is by turns commanding and hilarious, highly reminiscent of similar electro eccentrics like John Maus and Apostille, and he shares their vital lack of irony as he preens and peacocks to his Vangelis-like sonics. His joyous show sets us up perfectly for one of the day's heavy hitters: a characteristically muscular, uncompromising set in Studio 94 from New York noise titans, A Place To Bury Strangers.
Next door in Studio 92, Lust For Youth provide an elegant highlight, their balletic new wave drenched in a distinctly hard-edged, chilly romanticism. Frontman Hannes Norrvide cuts a matinee-idol figure onstage, all Brando jawline and theatrical lope, as his bandmate Malthe Fischer contours each track with elegiac guitar lines. They'll perhaps tire of the comparison, but live the Copenhagen natives serve as an intriguing negative image of their fellow handsome post-punk-indebted Danes, Iceage: for every seething guitar line from the latter band, LFY have a tender arpeggio; for every psychosexual snarl, a faraway, vulnerable croon. Their set is heartfelt, danceable, and deeply moving.
Less exciting, unfortunately, are Surfbort. Their speedy garage punk is spirited enough, but it's just so derivative, every other riff apparently lifted from either the most Ramones-like Sex Pistols tune, or the most Pistols-like Ramones tune. At their most adventurous, they hint that they may perhaps have heard half a New York Dolls record. Dressed as they are in '70s period costume, it's difficult to look beyond the pastiche here.
No matter. We head back to Studios 92 and 94 for the brutal one-two of Scalping and Schwefelgelb. The former overcome an initially muddy live mix to break into a formidable tech-punk groove, at times evoking a demonic collision between LCD Soundsystem and Vatican Shadow and hinting towards enormous potential; the latter create iron-fisted industrial techno against which resistance is futile. Like all the best artists in their genre, the Berlin duo produce a monstrous sound that feels at once thrillingly futuristic and elementally primal, timeless yet startlingly new, grindingly mechanical yet red in tooth and claw. It's a fitting end to a superbly-assembled day in the capital.
Test Pressing, various venues, Hackney Wick, 27 April 2019
Please support Loud And Quiet if you can
If you're a fan of what we do, please consider subscribing to L&Q to help fund our support of new musicians and independent labels
You can make a big difference for a few pounds per month, and in return we'll send you our magazines, exclusive flexi discs, and other subscriber bonus bits and pieces
Try for a month and cancel anytime