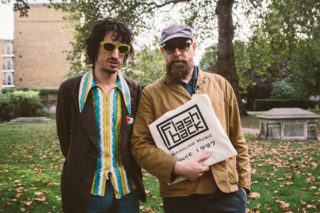 Vinyl shopping with The Moonlandingz – Bands Buy Records episode 04
This was always going to be a laugh
Sometimes, you've never quite sure what you're getting yourself into. It was a bit like that when we invited The Moonlandingz, the band formed from members of Fat White Family, Slow Club and The Eccentronic Research Council, to record our latest episode of Bands Buy Records.
You'll understand if you've seen them live. Johnny Rocket – you might be more familiar with him as Lias Saoudi – often makes jewellery out of loafs of bread and smears his face with whatever liquid he can find. He also claims not to own any of his own clothes. So giving Johnny and bandmate Dean Honer £25 to spend on a minimum of three records was always going to be entertaining.
Fortunately, it ended up being a right laugh. They did it, and then Johnny went and got on a plane to Cambodia, with "no real plan". As you do.
Check out episode 04 of Bands Buy Records below:
You can watch all the previous episodes of Bands Buy Records. Yeasayer, Primal Scream's Bobby Gillespie and, last time out, Chicago band Whitney.
Thanks to our hosts Flashback Records, Essex Road. Film by Timothy Cochrane.
Loud And Quiet could do with your help
We love making Loud And Quiet – our magazines, this website, our podcasts and more – but it's become increasingly difficult for us to balance the books.
If you're a reader who'd like to help us keep the show on the road, please consider becoming a Loud And Quiet member. There are options to receive our physical magazines and lots of other extras that are exclusive to our supporters.