Yoko Ono is on the cover of Loud And Quiet 128
In stores this weekend – pre-orders now open
Update: Read our digital version here. Or order a physical copy for home delivery. 
Yoko Ono has been creating art to satisfy herself since her first gallery show in New York, in 1961. That was seven years before she even met John Lennon, and even then she didn't know who The Beatles were.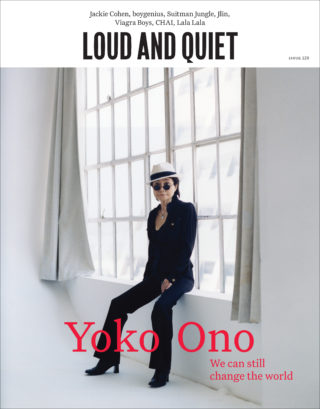 As she tells Brian Coney in this month's cover feature, it's the state of things in 2018 that compelled her to make a new record – 'Warzone' is not an easy listen, sonically or thematically, but of it Ono says: "It seems like plain hypocrisy that I'm alive, surviving, and not speaking out."
Others in our October 2018 edition (in stores this weekend) include surprised (and surprising) L.A. musician Jackie Cohen, Japanese girl group CHAI, who are subverting the country's culture of cute, 'Kawaii', Stockholm punk band Viagra Boys and Lala Lala, who made her second record off the back of getting sober and the paranoia that followed a home invasion in Chicago.
At the crack of dawn I met Suitman Jungle for coffee in Canary Wharf – the new live drum and bass side project of Marc Pell, drummer in Micachu and the Shapes; Tristan Gatward played Mrs and Mrs with Lucy Dacus, Julien Baker and Phoebe Bridgers about their new band boygenius; Dom Haley spoke with footwork producer Jlin about scoring her first ballet.
John Grant is our Sweet 16 column, Jonangelo Molinari took some pretty great portraits and End of The Road festival, Andrew Anderson guides you through signing a big, fat record deal, and Stephen Butchard looks as the relationship between sampled music, the listener and the creator.
All lovingly put together in Loud And Quiet 128.
Support Loud And Quiet from £3 per month and we'll post you our next 9 magazines
As all of us are constantly reminded, it's getting harder for independent publishers to stay in business, which applies to Loud And Quiet more now than ever, 14 years after we first started printing a magazine that we've always given away for free.
Having thought about the best way to support our running costs (the printing and distribution fees, the podcast and production costs etc.) we'd like to ask our readers who really enjoy what we do to subscribe to our next 9 issues over the next 12 months. The cheapest we can afford to do this for works out at £3 per month for UK subscribers, charged yearly.
If that seems like a bit of a punt, you can pay-as-you-go for £4 per month and cancel any time you like. European and world plans are available too, at the lowest rate we can afford.
It's not just a donation – you'll receive a physical copy of our magazine through your door and some extra perks detailed on our subscribe page. Digital subscriptions are available worldwide for £15 per year. We hope you consider this a good deal and the best way to keep Loud And Quiet in your life without its content, independence or existence suffering.