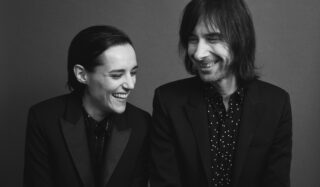 A relation of trust: Bobby Gillespie and Jehnny Beth's first interview about their new collaborative album
Two icons of contemporary rock on swapping acid house and post-punk for classic songcraft and vocal harmonies
From her living room in Paris, Jehnny Beth is telling me how she's been spending lockdown. It'd be fair to say that she's had a more productive time than most.
"I'm working on a new solo album, I've done some movies – I've started doing a bit of acting in France – there's the TV show [Arte's Echoes with Jehnny Beth, a music and interview programme], a lot of different projects. And this album with Bobby." The latter is what we're talking about today: Utopian Ashes, the record she's made with Bobby Gillespie, legendary frontman of Primal Scream.
Earnest and luxuriant, Utopian Ashes sounds very different from anything either artist has done before: neither the metallic glint of Savages nor the hedonistic bounce of Primal Scream is in evidence, nor anything particularly close to any of their many side and solo projects. Instead, the record is a decadent blend of Walker Brothers-esque chamber pop, Gainsbourg chanson and swooning folk-rock, nodding as much to mid-'70s John Cale or even Echo and the Bunnymen's most cinematic moments as it does to the more familiar vocal duo lineage of Nancy and Lee, Gram Parsons and Emmylou Harris, et al. It's a striking departure for both of them, but it sounds surprisingly natural, the album's rich instrumentation framing their intertwined vocals to elegant effect.
Soon, Gillespie joins us on the call, fresh from listening through a test pressing of the record. He's visibly excited. "I was getting lost in it. It sounds like such a good album!" Once he's complimented Beth on the new sofa we can see behind her, we're onto the record; both seem genuinely enthused to be telling the story of Utopian Ashes.
Can you tell us about how you got to know each other and started working together?
Jehnny Beth: We met at a fashion show – Yves Saint Laurent or something, I don't remember. And then we did the Suicide show together, which was a total improv, because I wasn't supposed to perform onstage. But I was doing something before this suicide performance. But I met Bobby backstage and then their managers sort of went "Oh, Jehnny, you should sing with Bobby." But Bobby had left, and I was waiting for him to come back.
Then I said to him, "Are they asking me to sing with you? Like… do you want that?" And it was 'Dream Baby Dream', which I knew because I used to cover it with Savages. Yeah. And then he was like, "Yeah, sure."
Henry Rollins went on before us and did this amazing performance, and then we were stood side of stage and couldn't hear anything. It was such a crazy night, total chaos. We went on, and I don't know what's going on, but nobody's singing. Alan [Vega] was supposed to sing, but he'd had a stroke by then, and wasn't well, and he was looking at us. But then but after two seconds, Bobby was on the floor, doing like a massive rock and roll pose – that was a lesson for me.
Then, we played with Massive Attack in Bristol – Savages, Primal Scream, Massive Attack. And then Bobby asked me to perform a song with them. So, we did 'Some Velvet Morning'. And then it was after that gig that [Primal Scream guitarist] Andrew Innes suggested to Bobby about asking if me and Johnny Hostile, who I always work with, would like to jam through some stuff together.
Did you hit it off straight away off-stage as well?
JB: Oh yeah. And by that point, I had been doing Savages for six, seven years, and I really, really like side projects when they can be sort of stepping into something with no pressure – you know, a bit of fun, making music with people you like, and this was something I thought was a really nice one to do. It's not as serious in a way – well, music is always serious, but it's less heavy.
So after those gigs, Bobby and Andrew came to our studio in Paris, and that's where we started writing. It was more like improvising to begin with – it was seeming more electronic, and I had written a few chorus bits and lyrics, and Bobby at that point had no lyrics so was just singing melodies. And then he went back to London after that, and then they wrote more and decided they wanted to do more of a rock record, to shift the direction, which was fine with me. Then we came to London a few times and he was always really funny, it was really enjoyable because he was always meeting up in the room in the studio, chatting, having fun.
Bobby Gillespie: Yeah, when we were in Paris for the first five days, we just were in this tiny little room with a keyboard, acoustic guitar and bass. There were really interesting keyboards, some nice sounds that we've never had before. But the ideas were more electronic-based, and we couldn't quite get it – it was quite hard.
I started writing words for the verses, and using acoustic guitar, and started thinking that we need to record these songs and develop them further with a live band. You know, piano, acoustic guitar, bass and maybe some other guitars, and make organic, wild, dramatic Americana. A more traditional record.
As two people who've both done so much strong work separately, did you have any preconceptions about one another? Did you go in expecting to work in a certain way and then end up being surprised by how it actually went?
JB: I had no idea what we were going to do while we're doing it. I even thought, "Is it a Primal album?" But Bobby came up with the idea of saying it's going to be a duet album. And I really wanted to do that because our voices sounded really great together, so it felt natural to do it that way. And also to land the record in that tradition of duet records that we both love – those references are very dear to me. And it was an opportunity for me to sing differently, because I was most well-known for most known for my work in Savages, which was very rhythmic and very primal [she breaks, apologising for the pun she's just made]. Which I loved, it was a conscious aesthetic decision, but it's nice when you can step away from that. I love singing melodies – it's good for the heart. And I think this album is really good for the heart as well.
I was really impressed with Bobby's lyrics. Because he initially, he was singing… what's it in English? We're "singing yoghurt", you know, it's the language that doesn't exist, just to carry melody? Bob's really good at that – I usually start with words.
But he went away and wrote words, I was like, "wow" – they're really moving and very revealing, and very, very elegant; very intimate and vulnerable. Which is always a sign of Bobby's writing – there's always an expression on his records which would be like a tear somewhere, and you could see the light shine through. And I feel that this record is really about that.
BG: Think the nature of the music, because there was a fragility to it, allowed me to express myself in the way that I have. Whereas with some of the Primals albums, they're quite rocky and even if they're electronic backing tracks, they can often be quite dark, quite aggressive. They don't lend themselves to the kind of subject matter that's on Utopian Ashes. Whereas this music had slow, gentle, lapping rhythms, and space for me to write this way, and the atmosphere really helped that. It opened something up.
JB: There's nothing more beautiful than seeing an artist take his space of expression. And that's what I was witnessing during this project. I could see that Bobby really had something to say. And I just love seeing that, it's a position I love to be in. I love it to be me expressing myself, but also being part of it with someone else, because also this is a conversational sort of record.
BG: It unlocked something in me that I really wanted to say, and this gave me the courage to say it. That was incredibly liberating for me as a songwriter – having to answer what Jehnny was saying in her choruses.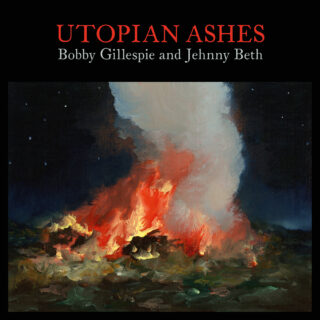 You mention the tradition of vocal duos that you really love – were there any in particular that you drew upon for this record?
BG: When we were making this record, I wasn't listening to any vocal duos specifically – this thing happened organically. But in the past, I've loved George Jones and Tammy Wynette, Gram Parsons and Emmylou Harris, Kris Kristofferson and Rita Coolidge, Nancy Sinatra and Lee Hazlewood. I love when people harmonise the parts – my favourite band are The Byrds.
When we came back from the sessions in Paris, there were a couple of tracks where Jehnny and I were singing together, and the voices sounded great. It grew out of that, we weren't trying to replicate anything. And I said to Andrew, "I think we can make a fucking duets record here!" That'll be something we've never done before, and we could make a really good piece of art.
JB: I agree. I mean, I was a huge, huge big fan of June Carter and Johnny Cash for a long time, and growing up, I learned music from jazz and there's a lot of great duos there. And I love to harmonise, it is one of my favourite things and that's not something I was doing in Savages, you know? But I love harmonising with someone, there's something about it that's physically so soothing. That's why people join choirs, because they can harmonise with ten people and it's extremely healing.
BG: It synchronises the soul.
JB: Yes. It's a form of meditation. Singing is a form of meditation. But harmonising is even better. I think when you're harmonising with people, there's a relation of trust, sort of supporting each other with vocals, and depending on the others to sound great and, and I love that sort of relation. It's not about power anymore, it's about balance.
BG: When Jehnny and I sang 'Stones of Silence' together, and I had to listen back to the speakers in the studio, I turned to Andrew and I said, "We sound like fucking Jefferson Airplane."  I really love the dynamic of a male and female voice together.
JB: It's a bit like The B-52's as well, with these powerful backing vocals. Sometimes I listen more to backing vocals than I listen to the lead. They can sound so free because they don't have the pressure of the frontperson. It's that point where the voice becomes part of the instrumentation.
BG: When we heard the playback of Jehnny and I singing 'Your Heart Will Always Be Broken', that reminded me of Gram Parsons and Emmylou Harris, we were so in unison together, and I was like "Oh my god, this is really beautiful". You know, we've really captured a moment here.
JB: Most of the vocals were just one take, as well. You know, "Bobby and Jehnny, they just do one take" [she laughs].
BG: Tell you what, it wasn't like that when I was starting out.
Have you thought about how it'll work live, once we're allowed to do those things again?
JB: Yeah, we'll use the band that was in the studio and hopefully we can play a few shows because I think people would really love that. It would feel very special, you know – I'd love to sing those songs live!
BG: I'm down to it. I was listening to the test pressing, and I was like, "I can't wait to do this, I wanna do it live."
JB: Yeah, when I listen to it, I sing along like a mad woman. I even sing your parts.
BG: Yeah, you'll probably have to sing my parts live – I'll be at the bar having a drink.
Utopian Ashes by Bobby Gillespie and Jehnny Beth is out on 2 July via Sony.
We're not being funny...
… but can you become a member please?
It's actually excellent value, and will help us continue to promote new independent artists and labels.
Sign up and you'll receive our physical magazines delivered to your door, our digital editions, exclusive podcasts and playlists and an actual bookmark, as if printing a magazine in 2021 wasn't old fashioned enough.
6-month and full year memberships are available now. Fancy it?