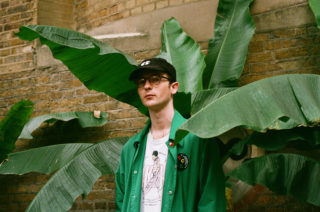 A texted conversation with IGLOOGHOST about the electronic world he's made for likeminded weirdo kids
Seamus Malliagh has become a cult hero, one album in
It's hard to think of IGLOOGHOST as anything other than a pair of floating cartoon eyeballs, but he's a Real Life Human named Seamus Malliagh, from Belfast, Ireland. He's studying Graphic Design at uni after a year at his family home, working on his dizzying debut 'NEŌ WAX BLOOM'. He's become a cult hero, one album in, and he gets nervous before interviews. He's also a big lover of Lapsang Souchong, a tea he's become the ambassador of on Twitter. IGLOOGHOST doesn't really care if you know about his personal life. Personal lives are boring.
That's partly why he writes his music to soundtrack the adventures of a ragtag bunch of otherworldly creatures, from a gelatinous worm in a witch hat named Xiangjiao, who got frozen mid-transformation, to the Melon Lantern Girls' choir, who sing a spell that's spun into a glorious melodic hook throughout the album. This peculiar story is fleshed out in the physical edition, cheekily printed on instruction manual paper you might find at IKEA. Delving into character arcs is an enjoyable bonus, but it's clear from our conversation that this world is meant to live on through chat rooms, intense conversations with friends and moments of escape within headphones.
"Never feel like spoken interviews come across how I want em too," Seamus writes. He's clearly a perfectionist, even if his typing says otherwise. Not a single bar on his new album is copy-pasted. Even the glossy packaging feels thought through, which is to say nothing of the actual sounds – tactile production that blurs synthetic and organic, and beats that feel crisp and readable even at the ridiculous speed they go at. When he's in "full all caps igloo" mode, as he calls it, his passion and playful bluster matches these candied sounds.
Speaking might ruin the magic, and while we begin our interview on a Skype call, we soon switch to text mode.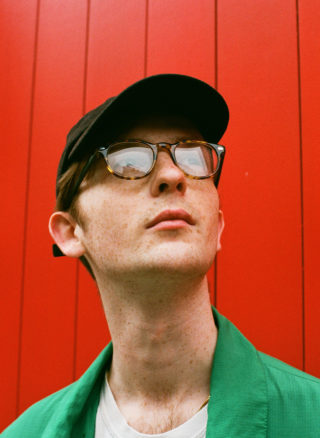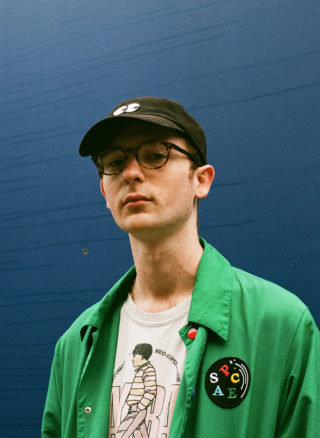 IGLOOGHOST's immaculate approach could be that of a genius or an obsessive fanboy, but it's probably both. He ended up on Brainfeeder by essentially stalking Flying Lotus, allegedly throwing tapes at him during live shows.
"A LOT OF MY OLD MUSIC SORTA JUST FEELS LIKE A RESPONSE TO HOW MUCH I WAS ENAMOURED WITH HIS STUFF… I'M PRETTY SURE I GOT MORE FLYLO MUSIC ON MY ITUNES THAN THE MAN HIMSELF."
That passion is still there. During our interview, he sneakily tweets out a picture of some of the albums that influenced his artwork and it becomes apparent that the nerves aren't the only reason he's on a keyboard. That ADHD-fuelled frantic craving for art is a highly charming trait. It's visible from a few caps-locked sentences.
Meeting more superfans like him gets that passion going. "I'M TRYNA READ LEGIT EVERYTHING PPL WRITE ABOUT IT ONLINE. SOME PPL ARE RLLY RLLY RLLY SMART," he types, in a few seconds.
"I THINK IT'S SCARED/SURPRISED A LOT OF PPL IN A GOOD WAY. GETTING SO MANY CRAZY IN-DEPTH QUESTIONS ABOUT THE STORYLINE & STUFF TOO. REALLY TIGHT. TO BE HONEST I THOUGHT I'D FEEL SUPER SATISFIED WITH THE UNIVERSE AFTER IT FINALLY DROPPED, BUT I'M HUNGRIER THAN EVER. I JUST WANNA MAKE MORE STUFF. I'M KINDA ALREADY OVER IT."
Elsewhere in the interview, he delves into that:
"I GOT A LOT OF NEW MUSIC PLANNED. I'M RLLY KEEN TO FIGURE OUT SOME NON-MUSIC IGLOOGHOST STUFF. MORE ART, ANIMATION ETC. I WANNA EXPAND THIS THING INTO A LOT OF DIFFERENT MEDIUMS. LET'S GEDDIT!"
Going from cult-follower to cult hero was an unusually natural transition, it seems:
"IDK THERE'S DEFINITELY A COUPLE GANGS OF KIDS WHO ARE RLLY RLLY HEAVY INTO THE IGLOO STUFF. I'M NOT EVEN HUGE THO, SO IT'S INTERESTING TO SEE HOW EARLY THAT'S HAPPENED. I'M A RLLY OBSESSIVE PERSON TOO SO I GUESS I'M JUST MAKING STUFF THAT I CAN IMAGINE APPEALING TO MYSELF… & THUS ATTRACTING LIKEMINDED WEIRDO KIDS."
Sometimes, that obsessive personality got the better of him. In writing the album, he challenged himself by refusing to copy-paste any bars, and to construct his world from scratch.
"IT HONESTLY NEARLY DESTROYED ME & I'M STILL FEELING THE AFTERMATH A LIL. I MOVED BACK TO WHERE I GREW UP FOR A YEAR TO MAKE IT & I WAS PRETTY ISOLATED CUS ALL MY FRIENDS WERE AT COLLEGE LIKE 90% OF THE TIME… SO THE ALBUM WAS ALL I RLLY HAD TO THINK ABOUT 24/7. I GUESS I WAS MOTIVATED BY THE FACT GIVING UP WOULD HAVE JUST RENDERED SO MUCH EFFORT POINTLESS. I RLLY JUST HAD TO BRUTEFORCE MY WAY THROUGH A LOT OF HARDER PERIODS. I'M GLAD I'M HERE THO."
Much of the music IGLOOGHOST makes could be boxed roughly into the category of 'stuff that exists on the Internet'. It's left-field outsider art that shares its meta wit and sheen with another British cult act, PC music. Is there a sense of community between outsider electronic music brought out by these superficially similar acts?
"ALTHOUGH I THINK THOSE GUYS ARE DOPE AS HELL, LIKE NOT TO DISTANCE MYSELF FROM THEM – BUT I RLLY PUT A LOT OF THOSE DESCRIPTIONS DOWN TO JUST THE CONTEXT A LOT OF PPL MAKING ELECTRONIC RN FIND THEMSELVES IN.
WE GOT ALL THESE ADHD-ADDLED BRAINS FROM ALL THIS INFORMATION BEING FIRED AT US ALL DAY, HENCE THE SPEED/HYPER-NESS OF THIS MUSIC… THEN WE GOT THE NATURE OF THESE PURELY DIGITAL DAWS WE'RE ALL USING. THE DEFAULT SOUND IS GONNA BE CLEAN AS FUCK, LIKE NOBODY'S GETTING SOME TAPE DISTORTION ADDLED PORTASTUDIO VIBES ANYMORE. U ACTUALLY HAVE TO FAKE THAT NOW & WE'VE REACHED A POINT IN TECHNOLOGY WHERE STUFF SOUNDS CLEAN & CRISP FROM THE JUMP.
I WANT MY STUFF TO SOUND LIKE AN HONEST REPRESENTATION OF ITS MEDIUM & ERA SO I DON'T TRY & OBSCURE THAT GLOSSYNESS"
The world he's building is a vast one, but his interest in Asian typography and language stands out. If you didn't know he was a white dude from Belfast you might think he was Japanese.
"I KINDA TRY & AVOID MAKING MY MUSIC FULL JAPANOPHILE JUST CUS I THINK THAT'S KINDA CORNY, BUT A LOT OF PPL MY AGE GREW UP ON HELLA JAPANESE MEDIA SO JUST THE WAY THEY PACE & TELL STORIES IS IMPORTANT TO A LOT OF US I GUESS. THE MELODRAMA & ACTION & VISUAL EXCESS. IT'S PROLLY SOMETHING I COULDN'T AVOID REFLECTING EVEN IF I TRIED MY HARDEST."
In many ways, this alien album reflects Seamus's reality. It's loaded with references to Grime, Drum'n'Bass, Jazz and even ambient. "I LOVE STEVE REICH & TO ME HIS MUSIC EVOKES THE A LOT OF LIL MOVIES IN MY HEAD," he writes. It seems he tinkers with anything that gives him an escape.
Now, he's doing the same thing for his listeners. The landscapes his characters inhabit feel so full, and the most we've been given visually are rough sketches and minimalist designs. We all have the capacity to dream up new places, but few can translate such intimate creative thoughts for other people.
"U KNOW I THINK IT WOULD BE HARDER TO MAKE IF IT WAS LYRICALLY SPELT OUT. I RLLY WANTED PPL TO FILL IN THE GAPS WITH THEIR OWN IMAGINATION RATHER THAN DICTATE EXACTLY WHAT THEY HAD TO THINK ABOUT FOR EACH PARTICULAR MOMENT."
Still, important details such as character voices and themes are harder to describe in beat-form. Some early reviews expressed confusion about reused samples popping up throughout. At best, it was seen as a stroke of genius, and a new form of character creation. At worst, it was shrugged off as lazy, and one-note.
"HAHA YEAH I THINK IT DID WEIRD A FEW PEOPLE OUT WHO WERE FIRST TIME LISTENERS BUT THAT'S ALL GOOD. I'M JUST TRYNA MAKE STUFF I THINK SOUNDS COOL TO ME.
IF IT DOESN'T RESONATE WITH SOMEONE THEN THAT'S HOW IT IS. THE ONLY THING THAT'S KINDA ANNOYING IS IF I GOT A SHITTY REVIEW FROM A HUGE SITE & IT BECAME LIKE THE FIRST SEARCH RESULT. THAT'S JUST ANNOYING CUS I FEEL LIKE IT TARNISHES IT A LIL BIT & JUST LOOKS LAME HAHA. THAT HASN'T HAPPENED YET THO SO IT'S ALL GUCCI."
The truth is, IGLOOGHOST doesn't 'reuse' samples. He recreates them. The Melon Girls' chant is chopped in countless ways throughout the album. Each time a different emotion is pulled from it. They won't be the same emotion for each listener – one person's boss battle could be another person's breakup. Some moments, such as the swirling saxophone solo that's worked into the track 'Super Ink Burst', are placed so elegantly that you second-guess what's sampled and what's not.
"MY BOY DOUG PLAYED THAT! WE'VE BEEN DOING STUFF FOR A WHILE… HE'S AN ABSOLUTE MONSTER. I ASKED IF HE THOUGHT SAX WOULD WORK ON IT & HE JUST JAMMED THAT OUT & SENT IT 5 MINUTES LATER. THE SONG WAS JUST MISSING SOMETHING MORE ORGANIC FEELING FOR IT TO WORK AFTER 'PALE EYES' SO A REGULAR HUMAN INSTRUMENT SOUNDED TIGHT IN THE END."
The power of the listener's imagination might be his trump card, but IGLOOGHOST's music is the hallucinogenic that gets us there.
Loud And Quiet needs your help
The COVID-19 crisis has cut off our advertising revenue stream, which is how we've always funded how we promoted new independent artists.
Now we must ask for your help.
If you enjoy our articles, photography and podcasts, please consider becoming a subscribing member. It works out to just £1 per week, to receive our next 6 issues, our 15-year anniversary zine, access to our digital editions, the L&Q brass pin, exclusive playlists, the L&Q bookmark and loads of other extras.